FCC Releases Beyoncé Super Bowl Performance Complaints (Spoiler: People Were Mad as Hell)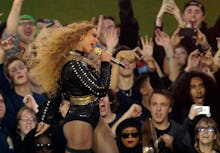 Beyoncé's Super Bowl halftime performance sparked outrage among some viewers who criticized the unapologetically black themes behind her critical single "Formation." Not least among the criticisms were those over the Black Panther-themed uniforms Beyoncé and her performers wore, which some people said symbolized anti-police sentiments. Now, the Federal Communications Commission has released 45 new complaints they received from viewers, who took their frustrations to the agency in an apparent witch hunt. The attacks ranged from calling the Houston native "anti-family," "pornographic" and even "anti-American." 
"What was displayed was anti-American, anti-police, pro-Black Panther, pornographic, anti-family and on and on!" One viewer noted in the complaints, likely hurling their computer out the window immediately after. "Will she accept accountability if someone's death is a result of her dance?" a Tallahassee, Florida, viewer similarly expressed. "The Super Bowl was not a venue for her to act out." 
"I am disgusted that Beyoncé's performance was allowed to be aired since it highlighted the Black Lives Matter movement, anti-police and Black Panthers cause." another wrote.
"Anyone who perceives my message as anti-police is completely mistaken," Beyoncé told Elle in a recent rare interview prior to the release of her sixth studio album release, Lemonade. "I have so much admiration and respect for officers and the families of officers who sacrifice themselves to keep us safe. But let's be clear: I am against police brutality and injustice. Those are two separate things. If celebrating my roots and culture during Black History Month made anyone uncomfortable, those feelings were there long before a video and long before me."
Meanwhile, the release of these FCC complaints shed light on a very real, substantive issue — according to some deaf viewers, the music from the halftime show wasn't captioned, making it impossible for them to enjoy the performance.
Read all of the complaints released by the FCC here.