Ricky Gervais Has a Great Plan to Keep Donald Trump Out of the Oval Office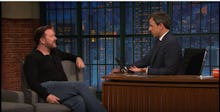 Last night, comedian Ricky Gervais appeared on Late Night With Seth Meyers to talk with the host about his love-hate relationship with the circus that is the Donald Trump campaign.
"I started off thinking it was quite funny," he said. "Then it got a bit serious. And now I don't know whether to want him to get in for the fun of it or not. I mean, I can say that, I don't live here. So, sorry about that." 
In the process, he came up with a brilliant idea to appease both Trump and the American people: a fake reality series in which Trump he believes he is president, and believes he is running the country while America looks for a real president. 
"What if we just told him he got in?" Gervais asked. "So, he gets up every day, right? And he does a little address and we go, 'Yes, brilliant!' ... And they're all extras. And he just never knows he was never president. ... It'd be amazing, I think he'd be up for it."  
And, interjected the host, should Trump eventually become wise to the joke, just stroke his ego.
"Maybe a year in you'd say, 'Here's the thing, it's been fake, but the ratings are huge!'" Meyers said. "And he goes, 'Very good, I'll keep doing it.'" 
At this point, anything is possible.
Check out the bit from Tuesday's Late Night below: 
Read more: Samantha Bee Mocks the Kasich–Cruz Alliance, and How It Won't Stop Donald Trump