Merriam-Webster Threw Shade at People Who Don't Know the Word Genderqueer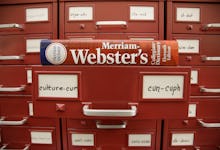 Merriam-Webster sent some people running to look up "throwing shade" on Monday after they chided those who criticized their addition of "genderqueer" to the dictionary.
After Merriam-Webster added an array of gender-related terms to the dictionary on April 20 — including "genderqueer," "cisgender" and the title "Mx" — the dictionary used social media to respond to criticism it had received. 
The result is pure shade. 
Here are a few of the tweets that set Merriam-Webster off into its clapback: 
Part of the problem is, of course, that many people still reject the identities of "genderqueer" and "cisgender." But, as the Washington Post points out, another issue rests on whether the dictionary should dictate how people use language or if people's word choice should influence the dictionary.
"The dictionary has to be a living, breathing, changing thing because it reflects the English language, which is a living, breathing, ever-changing thing," Dictionary.com lexicographer Jane Solomon told Mic in an earlier interview. 
Merriam-Webster's Twitter feed over the past couple of days reflects the changing nature of the English language. 
To double down on its point, three hours after their "genderqueer" tweet, Merriam-Webster tweeted out the definition of throwing shade. 
A+ job, Merriam-Webster. To the haters: "genderqueer" has arrived and it's not going anywhere.