Stephen Zappala Loses Election After Exploiting Sandra Bland, Walter Scott in Campaign Ad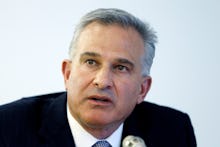 A candidate for attorney general of Pennsylvania used footage of Walter Scott, Sandra Bland and Janay Rice to garner votes in a controversial campaign ad.
Needless to say, it did not go well.
Stephen Zappala is the district attorney of Allegheny County, which includes Pittsburgh. 
He lost Tuesday's race by more than 10 points to fellow Democrat Joshua Shapiro — but not before sharing this pandering tour de force with the world:
The ad starts with images of Sandra Bland at the site of her violent arrested in Waller County, Texas, shortly before she was found dead in a local jail cell:
After that comes footage of Walter Scott running away from North Charleston, South Carolina, police officer Michael Slager seconds before the officer shot him to death:
Finally, there's footage of Janay Rice (née Palmer) sitting on the ground outside an Atlantic City casino elevator, after then-boyfriend and now-husband Ray Rice punched her in the head and knocked her unconscious:
All three victims are black. None of these incidents took place in Pennsylvania, let alone in Allegheny County. 
Yet the video uses them to illustrate Zappala's record on domestic and police violence. 
"He didn't need a traffic stop in Texas, a shooting in South Carolina or an elevator in Atlantic City," says the voiceover narration, "because during his 18 years as District Attorney, Steve Zappala led early fights to create the first dedicated domestic violence unit.
"Zappala," it goes on. "The only D.A. in our state to convict an on-duty police officer of criminal homicide. And Zappala pioneered videotaping traffic stops to improve trust."
The problem?
For starters, Zappala's ad is a blatant and remarkably insensitive exploitation of images of dead and battered black people to generate votes — particularly at a time when Americans are especially attuned to racial inequality and racist policing.
Whereas "tough on crime" has long been the go-to platform for prosecutors and judges to run on, candidates like Zappala now have reason to soften their approach. At least two prosecutors — Anita Alvarez in Chicago and Tim McGinty in Cuyahoga County, Ohio — were recently ousted at the polls because they declined, or were late, to prosecute police officers in high-profile misconduct cases, indicating that voters want a change in how these issues get addressed.
But Zappala's ad also hides a dangerous secret: He's a lot worse on these issues than he wants voters to believe.
Zappala's failure to prosecute police officers in several disturbing instances raises questions about whether he's truly for the people, or simply manipulating a "smart on crime" platform to win an election. 
The Root reported that, in 2011, Zappala declined to file charges against three white Pittsburgh police officers who brutally beat an unarmed black high school student — Jordan Miles — during an arrest while the boy was walking home from school. The next year, Zappala filed aggravated assault charges against another unarmed black man, Leon Ford Jr., for an incident in which Pittsburgh police shot Ford five times during a traffic stop, leaving him paralyzed.
In light of these cases, Zappala's video ad is textbook political manipulation at its worst.
The Zappala campaign posted the ad to YouTube in March as part of a bid to win the seat left open by Kathleen Kane, Pennsylvania's current attorney general, who was indicted in 2015 for obstruction of justice and perjury and did not seek re-election this week.
The family of Bland — whose infamous traffic stop is featured prominently in the video — has repeatedly asked Zappala to remove the video from circulation, according to Philly.com. Zappala has refused to do so.
Meanwhile, Joshua Shapiro, who defeated Zappala in Tuesday's primary, will face Republican nominee John C. Rafferty Jr. in November.
h/t The Root