Michigan Teacher Allison Wint Was Fired For Saying the Word "Vagina" in the Classroom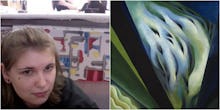 Nearly 50% of the population has a vagina. Yet for some reason, our culture is terrified of speaking publicly about them, to the point that merely saying the word "vagina" out loud can spark controversy.
That's what happened after a recent art history lecture by substitute teacher Allison Wint: She was fired from her job at Harper Creek Middle School in Michigan for saying the word "vagina." The subject of Wint's lecture? The work of pioneering feminist artist Georgia O'Keeffe, whose oeuvre has been considered by many to be inspired by literal vaginas. 
Wint told the Detroit Free Press that, although the eighth grade class engaged in a productive dialogue about O'Keeffe's work, Harper Creek principal Kim Thayer thought Wint's language was "inappropriate." Thayer promptly fired Wint, per a rule in the school handbook saying teachers must obtain "advanced approval" before discussing reproductive health. 
Wint told local WWMT television news she didn't know that the school had a policy against using the term in the classroom. But she's firm in her belief that using the word "vagina," instead of, say, a cutesy slang term for genetalia, was the right call.  
"I thought if I used a euphemism, that would make it into a joke," Wint told the Free Press. "Being afraid of the word... creates an aura of shame around the body part."
Shockingly, Wint isn't the first Michigan woman to be silenced for daring to say the word "vagina" out loud. In 2012, congressmen barred Michigan state House Rep. Lisa Brown from speaking after she used the dreaded V-word in a house debate about an abortion bill. 
Brown was quick to tweet in Wint's defense once news of her termination went public.
Since Wint was fired, dozens of outraged men and women have bombarded the middle school's Facebook page with criticism, demanding that Wint get her job back. They're also, of course, making jokes about vaginas. 
We've reached out to Harper Creek Middle School for comment, and will update if we hear back. But one thing is clear: if a teacher using a clinical term for anatomy in an academic setting is considered grounds for termination, then that doesn't just mean we're uncomfortable talking about sex — it means we're uncomfortable talking about bodies.