Anne Hathaway's Wordless Instagram Tribute to Beyoncé's 'Lemonade' Is... Odd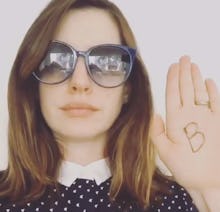 We're not sure what to think of this one.
On Wednesday, actress Anne Hathaway offered a wordless review of Beyoncé's visual album Lemonade with a short video posted to Instagram.
In the clip, Hathaway — who has a "B" written on the palm of her hand — does some sort of worshipping motion...
... and follows it up with a "mind blown" gesture as Beyonce's ballad "Halo" — decidedly not a Lemonade track — plays in the background.
Hathaway followed up with a few adoring words:
By late Wednesday morning, the post had nearly 90,000 likes. 
"Oh my gosh," said one commenter. "My queen adoring my other queen."
"????????????????????????????????????????," contemplated another.
And another: "Why isn't she using a fucking Lemonade song????? ???? "
But perhaps the most relatable bit of commentary came from the user who wrote, simply, "What."
The world may never know.
Read more: Beyoncé's 'Lemonade' Is What Happens When Black Women Control Their Art