This "No Fats, No Fems" Shirt Reveals a Sad Truth About the Gay Community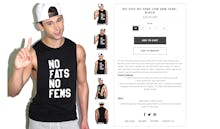 Is there something you need to get off your chest? Like this tank top, perhaps? 
Online retailer Marek + Richard, which makes a "wide range of rad gear" including jockstraps, tanks and snapback hats marketed to gay men, debuted a new tank top recently that rubbed a few online users the wrong way. 
The tank in question is a simple black tank that says "No Fats No Fems." Marek + Richard did not immediately reply to a request for comment.
"No Fats No Fems" is a now-ubiquitous phrase on gay hookup apps like Grindr that means a person is not looking to hook up with men of size or feminine men. There's even a forthcoming documentary addressing the short phrase and what it means for gay men in terms of culture and identity. 
There is no doubt the shirt is discriminatory — its intention is to separate those you want to sleep with (thin, masculine) with those you don't (fat, feminine). And while having preferences against fat or feminine men may seem innocuous enough, putting it on a shirt or even on an app profile speaks to a larger truth about the gay community: We're sexist, racist and discriminatory AF. 
Here's proof: One 2012 study in the journal Body Image showed that, when it comes to short-term relationships, gay men prize lean, muscular builds the most. And that's a problem. In 2005, researchers found that being gay alone is a risk factor for men to develop eating disorders due to pressures to be thin. 
The media only amplify these messages. A 2011 study found that the models in gay-centric magazines were both thinner and more muscular than the men in magazines like GQ. Images like these reinforce the importance of a thin, muscular physique. And they work: Several studies prove that gay men on average have lower body mass indexes than straight men. 
The other problem is that, for many gay men, muscularity equals masculinity — which is often prized in the community. The study "Reported Effects of Masculine Ideals on Gay Men" showed that gay men often feel "psychological distress" if they cannot be masculine enough for the gay community. As Michael Kimmel wrote in Guyland, "Men perform their masculinity for other men, who are the ultimate judges of it." 
On the other end of the spectrum, fats and fems are linked because gay men of size are thought to have feminized bodies — due to their larger hips, breasts and butts, Jason Whitesel wrote in his book Fat Gay Men.
"In the case of big men, fat amounts to degradable femininity," Whitesel wrote.
And, while the tank and the phrase "No fats no fems" does not sound like it would have racist implications, it actually does. A study in the Archives of Sexual Behavior found that gay men associate Asian men with being feminine bottoms, while black men are aggressive, masculine tops. 
So it's not just a simple black tank with a phrase. Clearly, its implications are far-reaching and play into ill-conceived notions about gender, sexuality and race. There are a lot of steps we need to make toward correcting these attitudes, and an easy first move is to reject the message on this shirt.
April 28, 2:22 p.m.: After this story was published, Marek + Richard addressed the tank top and online response to it with a tweet. The tweet claimed the shirt was satirical. 
However, Twitter users did not buy the response.