The Flyboard Air Is Unlike Any Hoverboard You've Ever Seen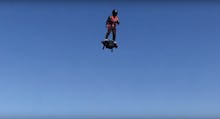 Meet the hoverboard that actually flies. 
Frank Zapata is the creator of the Flyboard, which allows people to propel dozens of feet above the water. Now, he created one that doesn't even need water to fly. 
This device is the only one that allows for human flight.
However, several other groundbreaking inventions hint that we're on the brink of a transportation overhaul. 
For example, a Chinese company just revealed its design for EHang 184, a car-sized drone that could transport a passenger without a pilot. 
And then there's Tesla CEO Elon Musk's idea for the Hyperloop, an ultra-fast transportation system that's essentially a train on some intense stimulants. It could travel up to 220 mph and complete a 400-mile trip in a half hour.
"Short of figuring out real teleportation, which would of course be awesome (someone please do this), the only option for super fast travel is to build a tube over or under the ground that contains a special environment," Musk wrote upon unveiling the futuristic concept in 2013.
Read more: This Grandma Flipping the F*ck Out in a Driverless Tesla Is All of Us