Here's the Number That Objectively Proves Bernie Sanders' Presidential Campaign Is Over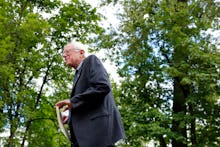 Bernie Bros feeling the Bern are going to have to get used to a new hashtag — ironically — after their candidate won Indiana's Democratic primary on Tuesday. 
#FeelTheMath
Put another way, it is now mathematically impossible for the Vermont Democratic Socialist to win the nomination with pledged delegates alone.
Cruel as it may be, despite his impressive victory in Indiana's primary, there are now officially fewer outstanding pledged delegates in the Democratic race than the minimum amount necessary to put Sanders over the top. 
According to the Associated Press, Sanders needs 984 delegates to reach the Democratic magic number of 2,383. However, among the remaining contests only 933 remain, Politico reported.
That means ...
For Bernie to still run away with the convention in Philadelphia, he will need to do it through the superdelegate process — something he and his supporters have widely derided as undemocratic. 
Read More: Indiana Democratic Primary 2016: Bernie Sanders Upsets Hillary Clinton