Kiss Your Secret Dating Life Goodbye: Tinder Just Outed Some of Its Users on Facebook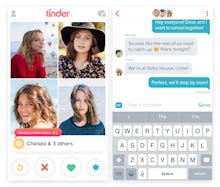 What's better than swiping right on your future soulmate? Swiping right on four future soulmates in one fingerstroke. There's just one caveat: It's not a very covert operation. 
Tinder's new feature — Tinder Social — lets you start a group with friends you want to go out with and then swipe to match with other groups hitting the town, according to a blog post announcement. Bing bang boom, you've got a mobile sex club. The feature is currently only available to a small group of users in Australia. 
But users are flipping the fuck out over this new Tinder feature, because it broadcasts which of their Facebook friends use the app, a user told Business Insider. And it's not opt-in — the feature was reportedly automatically activated for this test group. 
"I think many people might find it somewhat embarrassing and I think that there should have been a warning or an option to turn it on rather than just having your name out there for all your friends to see," Tinder user Chloe Mac told Business Insider.
Unassuming swipers in this test group are now popping up in people's public lists. For those who don't give a damn if people know they are on Tinder, this isn't a huge deal, but for those who might want to keep their online dating life under wraps, Tinder just automatically publicized their private business to their Facebook friends. Be still, digital hearts.