Who Is "Becky With the Good Hair?" Woman Behind Beyonce's Lyrics Might Not Even Be Real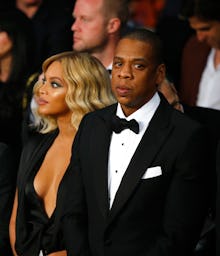 Since its Saturday night release, a lyric off of Beyoncé's Lemonade song "Sorry," which goes, "He better call Becky with the good hair" has inspired rampant speculation that the power couple has dealt with infidelity, with many fingers pointing at Rachel Roy and Rita Ora as Jay Z's possible other woman. Turns out though, Becky might not even be real. 
Inside sources are alleging that this Becky character is an amalgamation of Jay Z's multiple cheating-partners pre-Blue Ivy or a totally made-up story, according to Page Six.  
"I don't think Beyoncé is calling out one girl," one inside source told Page Six. "It is many girls. The rumors have been around for years." The source added, "Jay is now a great husband, and this is in the past. They went through a rocky patch but things are good again. The video is about finally coming to terms with her strength and their love."
Read more: Rachel Roy, Beyoncé's 'Lemonade' and Why We Must Stop Shaming "Becky With the Good Hair"
But another source said that it's just a marketing ploy "to drive sales," according to Page Six. "Jay and Beyoncé are entertainers at the top of their game," the source said. "Do you think Jay would release her album on [his own] Tidal if it really was all about him? He is 100% behind this."
Meanwhile, Roy and Ora have felt the wrath of the BeyHive.
On Tuesday, Roy released a statement to People denying that she is Becky. "There is no validity to the idea that the song references me personally," she said. "There is no truth to the rumors."
Ora did the same on Tuesday on Twitter, saying, "I never usually address tabloid gossip but let me be clear, these rumours are false."
Neither Jay Z nor Beyoncé have addressed any of the rumors yet, however.