UCF Police Warn Students of "Middle Eastern" Gunman After Someone Saw a Muslim Praying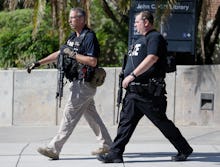 Authorities at the University of Central Florida put their Orlando campus on lockdown Tuesday after police saw a social media report of an individual with a gun in the library — but the security response is widely believed to have been triggered by nothing more than a Muslim woman in a hijab praying in a stairwell, WESH 2 reported.
The library was evacuated shortly before 5:00 p.m., and no threat was found. But in tweets that have since been deleted, the UCF Police Department warned of a "POSSIBLE MIDDLE EASTERN GUN MAN/WOMAN IN UCF MAIN CAMPUS LIBRARY." Photos from the scene show officers responded in force, carrying rifles and wearing bulletproof vests.
UCF student Anthony Scotto told WESH 2, "Just assuming she had a gun because she was praying how Muslims pray, it seemed like she made that connection, I assume any object on them would be a gun."
"I saw her praying in the hallway and didn't think anything of it," he added. "[She] was sitting in front of me and didn't do anything weird."
According to Orlando Weekly, some on campus said the woman in question is a library employee who regularly prays at work.
The Muslim woman was quickly revealed to pose no threat to anyone. But in a perverse spin, WFTV 9 reported campus police muddled the clusterfuck further by accidentally discharging a firearm shortly after students were given the "all clear" signal.
"It was literally feet in front of me, so it was really scary," UCF student Kayla Stevens told the station. "You kind of just saw the guy holding the gun, like it kicked back, and everybody that was standing there ran the opposite direction."
"I think there needs to be a thorough investigation before sending out an alert to 60,000 members of the UCF community," the Counsel on American-Islamic Relations' Rasha Mubarak told News 6. "We do call on them to create a proper investigation on who's posting maybe possible discriminatory micro-aggressive comments against Muslim students — Middle Eastern students, for that matter."
Read more: 6 Actual Acts of Terrorism That Occurred While Everyone Was Panicking About Refugees