Donald Trump Is Tired of Hillary Clinton "Shouting," Which Is Pretty Damn Ironic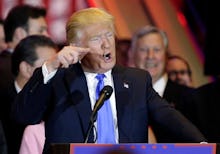 Donald Trump was fired up after winning all five states during Tuesday's primaries in the Northeast, and decided to cast himself as the presumptive nominee with his typical digs at former Secretary of State Hillary Clinton. The billionaire businessman lambasted the former New York senator for playing the "women's card" several times throughout his Tuesday night victory speech, but his most shocking (and repeated) comments came during his Wednesday morning interview on MSNBC's Morning Joe.
"I haven't quite recovered ... from her shouting that message," Trump said, discussing Clinton's victory speech the night before in which she focused on women's rights and equal pay. "I know a lot of people would say, 'You can't say that about a woman' because of course 'a woman doesn't shout,' but the way she shouted that message was not — ooh, that's the way she said it."
He went on to drag the leading Democratic candidate for using a private email server during her tenure as secretary of state, claiming "people that did far less are sitting in jail cells." Although Trump has thrown each of these attacks at Clinton, and she has since responded by saying, "I'm not shouting. It's just when women talk, some people think we're shouting," viewers weren't about to let the Donald slide with the continued rhetoric:
Meanwhile, it's worth noting Clinton does, in fact, shout her messages from time to time with excitement and energy, as her supporters cheer loudly throughout packed stadiums. The same thing goes for Trump, who generally shouts in each speech he gives, as well as Sanders and several of the former Republican and Democratic candidates alike. 
In fact, here's a compilation of Trump shouting a single word in a variety of speeches: peanuts. 
But it isn't only him:
Read more: Donald Trump Gets a Major Eye Roll From New Jersey First Lady Mary Pat Christie