'The Jinx' Subject Robert Durst Is Officially Going to Prison, Gets 7 Years for Plea Deal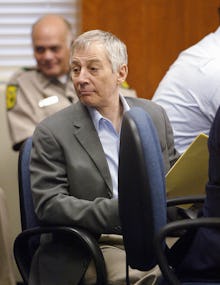 A federal judge in New Orleans has approved a plea deal that would allow Robert Durst, the subject of the popular HBO documentary miniseries The Jinx to serve seven years and one month in prison on a weapons charge.
Durst, the heir to a massive real estate fortune, accepted the sentence in February after pleading guilty to possessing a .38-caliber revolver in the wake of a felony charge, and had been waiting on judicial approval.
The 73-year-old also faces a separate murder charge in California in connection to the death of his friend, Susan Berman, in 2000. He is accused of killing Berman in order to keep her from divulging details about the disappearance of his first wife, Kathleen Durst, in 1982.
The Jinx chronicled the deaths of Kathleen Durst, Berman and a neighbor, who lived near Robert Durst's Galveston, Texas, home, whose body was found dismembered in a river in 2001. The show famously concluded with off-camera audio footage of Durst unknowingly muttering into a hot mic, "What the hell did I do? Killed them all, of course." 
According to ABC, attorneys filed a motion on Monday appealing to Judge Kurt Engelhardt to allow Durst to serve his sentence in a California prison, citing his "advanced age and serious health considerations, including mobility challenges," as well as the fact that the facility is in close proximity to his upcoming murder trial.
Read more: What 'The Jinx' and 'Serial' Say About How We Process True Crime Stories