Facebook Suspended a Slew of Bernie Sanders Groups — But Not for the Reason They Think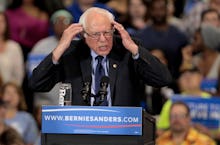 Get the five stories that will challenge you to rethink the world by signing up for MicCheck Daily.
Facebook and Reddit are teeming hubs of political action. But online, all it takes is a few trolls or a little glitch to bring a giant political machine crumbling down.
On Monday, six major Facebook pages for Bernie Sanders supporters suddenly went dark, prompting an immediate panic among his fans online. Together, the groups, like Bernie Believers and Bernie Sanders or Bust, had hundreds of thousands of followers.
The groups went back up in hours — Facebook blamed it on a glitch in the way its bots handle moderation. The next day, that same error led to the disappearance of five pages supporting Rodrigo Duterte, a candidate in the Filipino presidential elections.
"A number of groups were inaccessible for a brief period after one of our automated policies was applied incorrectly," a Facebook spokesperson told Recode. "We corrected the problem within hours and are working to improve our tools."
But the Sanders base doesn't want to hear it. Since the recent news that a pro-Clinton PAC is putting $1 million into an online troll army, Sanders fans are blaming all sorts of online shenanigans on paid Hillary operatives.
But even as conspiracy theories abound, pro-Clinton groups claim that the trolls among them are just rogue agents, and not part of a secret establishment effort to silence Sanders supporters.