Beyonce's Feminist Masterpiece 'Lemonade' Is Missing One Important Thing — Other Women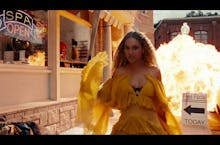 At this point, there should be no doubt in anyone's mind that in the world of Beyoncé's Lemonade, ladies come first. Its 12 tracks offer some of the most incisive feminist empowerment to ever hit the pop world. The Hollywood Reporter called it a "masterwork" in black feminism; Time called it "grown-ass black woman magic;" Bustle broke down all the feminist lyrics that stand out from the album's striking "Texas Bama" of R&B.
However, look behind the lyrics, and the girl power the album dares its listener challenge begins to fade. Beyoncé's name appears throughout the album's liner notes. She's credited as a co-writer and co-producer on every song, however, only five of the remaining 58 names in these categories belong to women.
This fact reframes Lemonade in an odd context: For an album with the essential aim to empower women economically, socially and artistically, the overwhelming majority of the album's writers and producers are men.
The few female contributors can be picked out easily. Queens, New York-born songwriter Diana "Wynter" Gordon has three writing credits and one production nod. Ingrid Burley, a Houston rapper who performs under the name Ingrid, helped pen the ethereal "Love Drought." Three more women — Midian Mathers on "Sandcastles," Carla Williams on "Freedom" and Ilsey Juber on "All Night" — round out the list. 
Yeah Yeah Yeahs' singer Karen O appears on the "Hold Up" credits, but that's more of a formality, as the song "contains elements" of the band's "Maps." 
In total, only 10% of credited writers are women, and only 11% of producers are women, including Beyoncé herself.
It's not like there's an absolute dearth of female producers and songwriters out there. Producers like Wondagurl or Tokimonsta could have easily banged out a Mike Will or Diplo-esque beat. FKA Twigs or Kelela could've blessed "6 Inch" instead of the Weeknd's thin breathiness. Their voices would have brought the added experience of likely having worn 6-inch heels at some point in their lives. Kendrick Lamar is not the only rapper spitting black liberation raps in hip-hop today.
When it came down to making Lemonade, Beyoncé made a decision: She chose star power over girl power. It's one that many stars before her have made, and unfortunately it helps perpetuate a songwriting cycle that continually leaves women out of hitmakers' upper echelons.
Our lack of female hitmakers has far-reaching consequences. The issue flared up in a big way around the time when the New York State Supreme Court handed down their decision in Kesha's rape case. Fusion took a look at the state of pop and asked, considering the artist's alleged past, "What if Kesha wanted to work with a woman?" They found she'd pretty much be out of luck. Of producers on Billboard's Hot 100, 92.5% were male during the week of March 5. 
Similarly, Fusion found that throughout 2015, only 13.5% of songwriters — just a slightly greater percentage than appear on Lemonade — and 3.2% of producers were female.
"The setup for ages has been female performers and male producers, and I think people simply get used to this arrangement," DJ Asma Maroof of the group Nguzunguzu told the Fader in a 2014 piece exploring why more women aren't becoming more producers. "A big barrier is the stigma. Like, 'You're good, for a girl.' Having to explain yourself, simply because people aren't used to the idea of a woman being in charge."
Maroof's words read especially pointedly, as Beyoncé has been a huge leader in helping listeners get used to this idea of a woman being in control of her art. Yet in this one aspect, she's still keeping in formation with history.
Who knows what a cadre of female producers and writers would have brought to Beyoncé's art. In a recent interview for our weekly Mic Drop, R&B singer Bosco said working with a female producer for her latest mixtape was like a "fresh breath of air." Her producer, Speakerfoxxx, "was able to pull certain things out of me that were hidden or buried or subdued," she said.
If working with female writers and producers had somehow allowed Beyoncé to access the same, think of what Lemonade could've been. Even more importantly, think of the message it would have sent to every young girl who ever had the impulse to craft a beat or write a song. 
Correction: April 28, 2016