Elon Musk Says the Next Tesla Will Be Even Cheaper Than the Tesla 3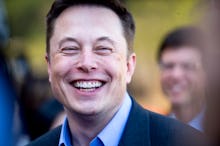 It's only been a few weeks since tech entrepreneur and Tesla CEO Elon Musk unveiled his latest electric car, the Tesla Model 3, the most affordable yet at $35,000. But during an appearance last week at the Future Transport Solutions conference in Oslo, Norway, Musk hinted that there are already plans for even cheaper Teslas in the pipeline.
"There'll be future cars that are even more affordable down the road," Musk said. "But with something like the Model 3, it's designed ... such that roughly half of people can afford the car. And then, with fourth generation and smaller cars, we'll ultimately be in the position where I think almost everyone can afford the car."
The Tesla 3, which is comparable in price to other electric cars like the Nissan Leaf and the Chevy Bolt, includes features like autopilot capability, charging and supercharging, and can go from 0 to 60 miles per hour in under 6 seconds. At the Tesla 3's unveiling on April 1, Musk announced that there were already 115,000 preorders for the car.
Read: The Police Chase of the Future Is Virtual — And It Could Save Thousands of Lives