This 8-Year-Old's Heartwarming Letter Is Making President Barack Obama Come to Flint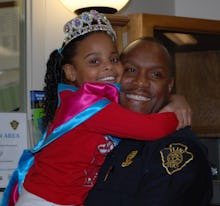 Although the water crisis in Flint, Michigan, is fading from the major news cycle, the residents of the Midwestern city aren't able to simply forget about the effects of the tainted water. 8-year-old Amariyanna Copeny is one of those residents. 
Back in March, Copeny penned a letter to President Barack Obama asking him to visit her city of Flint, sharing details of how she has tried to get involved in the city's restorative efforts. 
"I am one of the children that is affected by this water and I've been doing my best to march in protest and to speak out for all the kids that live here in Flint," Copeny, also known as "Little Miss Flint," wrote in the letter. 
"I know this is probably an odd request but I would love for a chance to meet you or your wife," the 8-year-old continued. "My mom said chances are you will be too busy with more important things, but there is a lot of people coming on these buses and even just a meeting from you or your wife would really lift people's spirits."
On Wednesday, the President of the United States responded. 
In President Obama's letter back to the young girl he said that he will be stopping by the city of Flint on May 4 to "make sure people like you and your family are receiving the help you need and deserve." 
"Like you, I'll use my voice to call for change and help lift up your community," President Obama continued. "Letters from kids like you are what make me so optimistic for the future. I hope to meet you next week, 'Little Miss Flint.'"
Read more: A 10-Year-Old Just Drew the Only Cartoon About Flint That Anybody Needs to See