This Adorable Robot Monk Is the Answer to All Your Anxiety Problems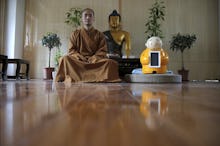 Meet Xian'er. He's an adorable 2-foot robot monk who will teach you how to be more zen. 
Adorning a golden robe, he can move on command, chant mantras and answer a list of questions about Buddhism by having users interact with the touchscreen he's holding with an earnest expression. The little monk can therefore help you meditate and get closer to achieving zen with his help in understanding Buddhism better. (He's also just fun to look at.)
Read more: 5 Ways to Deal With Anxiety You Can Use In Any Situation
Xian'er is the product of a collaboration between Longquan temple (on the outskirts of Beijing), a technology company and local universities specializing in artificial intelligence. Master Xianfan, a real-life monk at the temple, first created Xian'er as a cartoon in 2011 and it grew from there. 
"Science and Buddhism are not opposing nor contradicting, and can be combined and mutually compatible," Xianfan told Reuters.
Venerable Master Xuecheng, president of the Buddhist Academy of China, told Chinese state news outlet CCTV in 2015 that it was better for both his religion and society overall to expand the relationship between contemporary culture and Buddhism. 
Xianfan said a culture dominated by technology has left a spiritual chasm, which Buddhism can help fill. "Buddhism is something that attaches much importance to inner heart, and pays attention to the individual's spiritual world ... I think it can satisfy the needs of many people," he said.
Thus far, people seem to be responding receptively. 
"He looks really cute," a tourist visiting Longquan said in a video for Reuters. "He'll help spread Buddhism to more people since they'll think he's interesting."