Pure Caffeine Powder Is Killing Young People — And Now Lawmakers Are Cracking Down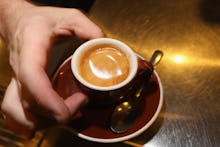 A deadly powdered drug is catching the attention of U.S. lawmakers, and it isn't heroin or cocaine.
It's pure caffeine powder.
A single teaspoon of pure caffeine powder is equal to around 28 cups of coffee, and "very small amounts may cause accidental overdose," according to the Food and Drug Administration. Overdose symptoms "can include rapid or dangerously erratic heartbeat, seizures and death." 
The powder is sold in bulk bags over the internet, and it's nearly impossible to measure out safe doses using everyday kitchen tools. "Volume measures, such as teaspoons, are not precise enough to calculate how many milligrams of caffeine are in the serving size," according to the FDA.
Senators want to ban it: In a letter sent to the FDA on Tuesday, Democratic senators campaigned for a federal ban on the sale of pure caffeine powder, the Hill reported. The senators reportedly said the FDA has been a "bitter disappointment" in dealing with the dangerous product.
The lawmakers' concern stems from two overdose deaths from pure caffeine powder in 2014. 
The first was Logan Stiner, a high school senior who died after using caffeine powder to boost his energy — but misjudged the dosage, according to the New York Times. The second was James Wade Sweatt, a 24-year-old recent college graduate who reportedly died after consuming a blended drink containing caffeine powder. 
What the FDA has done so far: In a statement following Stiner and Sweatt's deaths, the FDA recommended that people avoid pure caffeine powder. And in 2015, the agency sent "warning letters" to five distributors of the powder, "because these products are dangerous and present a significant or unreasonable risk of illness or injury to consumers," according to a statement. 
But it hasn't been enough, the senators argued. 
"It is disturbing that despite two unintended and untimely deaths associated with powdered caffeine, the FDA has done little to regulate these products or adequately enforce the standards in place to protect Americans," their letter read, according to the Hill.
"These products do not provide a way to measure a safe dosage per FDA recommendations, and are sold in quantities that could easily kill hundreds of individuals if ingested incorrectly," the letter also stated.
Caffeine kills in other ways, too: We're talking about energy drinks, like Rockstar and Red Bull. A November study found that consuming just one energy drink causes a significant spike in blood pressure — a risk factor for stroke and heart attacks, Mic reported at the time. 
The FDA has also investigated a number of deaths in recent years linked to Monster and 5-Hour Energy shots.
"I bet a lot of people don't realize how much caffeine they're getting," Dr. Nieca Goldberg, a cardiologist and director of the Joan H. Tisch Center for Women's Health at NYU Langone Medical Center, said at the time.