Kesha Returns to the Studio With Producer Zedd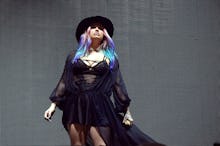 In February, New York Supreme Court Justice Shirley Kornreich ruled that Kesha was bound to her contract with Sony producer Dr. Luke, who allegedly drugged, sexually assaulted and psychologically abused the singer over the course of nearly a decade. Along with artists like Adele, Lady Gaga and Taylor Swift who offered their support, German DJ and producer Zedd tweeted at Kesha, telling her he'd be "happy to produce a song" for her if she wanted.
On Tuesday, an Instagram post from the singer showed her in a recording studio, suggesting she had taken Zedd up on his offer. In the caption, Kesha tagged Zedd and wrote, "It's a miracle when someone gives you a chance at finding your voice again with no reason other than that he is a fucking beautiful person with a heart of gold."
Read more: The Kesha Allegations Reveal One Big Problem We Aren't Talking About
Earlier this month, Kesha revealed to her followers that she was offered her freedom in exchange for a public apology for her rape accusations.
"I will not take back the truth," she wrote at the time. "I would rather let the truth ruin my career than lie for a monster ever again."
Kesha also recently surprised fans with an appearance at Coachella, joining Zedd on stage to sing the eponymous track from his 2015 album True Colors. Zedd announced he would release a new version of the song on Friday with vocals from Kesha.
April 27, 2016, 3:44 p.m.: This story has been updated.
h/t MTV