OK So, what actually is the Met Gala?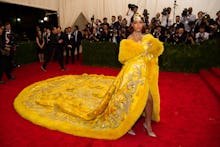 Every year, celebrities and models alike slip into their most daring dresses and expertly tailored suits and glide down the red carpet at the Metropolitan Museum of Art. To them, it is Fashion Prom. Officially, it is the Costume Institute Gala. To most, it is the Met Gala. 
Taylor's done it. Beyoncé's done it. Rihanna's certainly done it. Anyone who's anyone has done it. 
With the gala starting in 1948, it has been fashion's most head-turning annual fundraiser, pairing together fashion industry elite (including Calvin Klein and Tom Ford) with celebrities like Jennifer Lopez and Kendall Jenner, all in the name of art — or, rather, the Costume Institute's latest exhibit. 
Read more: Rihanna's Met Gala Dress Made a Bold Statement — and Every Other Star Should Take Notes
The annual event's purpose is to raise money (and attention) for the Institute and its latest exhibition, which comes with a theme. Vogue Editor-in-Chief Anna Wintour has chaired the event since 1999. The exhibition itself can be a retrospective of just one designer or a celebration of innovation, like it is with this year's theme of "Manus x Machina: Fashion in an Age of Technology." 
When Rihanna walked the red carpet wrapped in what looked like a very beautiful egg and cheese omelet, it was for the 2015 exhibition "China: Through the Looking Glass." And when Kim Kardashian attended in that loud floral, body-hugging dress that made her look more like an ottoman than a human, it was for the 2013 exhibition "PUNK: Chaos to Couture."
In its earliest stages, the gala was simply seen as a fundraiser and dinner, and it's largely still that, with seats at tables inside (for non-celebrities) going for a whopping $30,000. But now, it's turned into somewhat of a spectacle. This year, that is never so apparent as, for the first time ever, Giuliana Rancic and E! News will be on the red carpet, looking for dresses that attempt to capture this year's theme. As it stands now, it's one of the only events where the red carpet is covered, but the actual ceremony is not.
It wasn't always this way. Way back when, there wasn't even a red carpet. Even in the 90s, the event was celebrities precariously walking up a Met staircase with designers in tow. It was much more fashion insider-y than it is now, with few people creating headline-making moments with their attire. Though many dressed beautifully (see: Princess Diana), the Mat Gala really wasn't as much of a fashion event (see: Kirsten Dunst). 
In 2006, the New York Times' Cathy Horyn compared the event to the Academy Awards' Vanity Fair after party. "Both parties are outlets for the ego, though it's unlikely that the Met ball will supplant the Hollywood party in star power," she wrote. "Even designers have an implacable sense of priority." 
But as the years ticked on, and the tabloid age took hold, it became a prime time for celebrities to have their "red carpet moment." With more photographers and outlets covering the gala, more celebrities came with a motive: to be seen.
This is the time and place many a star has attempted to make a name for themselves via just one red carpet look. Like Scarlett Johansson and Renee Zellweger who both showed up the 2004 Gala for the exhibition "Dangerous Liaisons: Fashion and Furniture in the 18th Century," ready to stun. 
Over just the past few years, the Gala transformed from just another red carpet event to a stage on which the stars can pull out a look they'd wear absolutely nowhere else. Because of that, we've witnessed celebrities take giant sartorial risks.
Take Sarah Jessica Parker, for instance, who joyously takes each year's theme to a new level — and causes a bit of a press firestorm while doing so. 
On Monday night, with a technology-driven theme, we could see some stars taking the opportunity to look like a robot, or wear a gown that 3D prints itself or otherwise exhibits this sort of innovative technology the exhibition holds so dear.
At this point, there's only one thing you can be sure of at this very expensive dinner: It'll be interesting.