"Becky" Is Not a Racial Slur — So You Should Stop Calling Beyoncé's 'Lemonade' Racist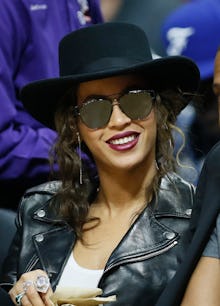 After Beyoncé unleashed Lemonade to the world, unloading a concoction of underlying political and sometimes controversial themes, no other line has been as much a catalyst for scandal as "He better call Becky with the good hair."
Several celebrities have come out in their own defense to reassure fans and the furiously buzzing BeyHive they are not, in fact, the cheating Becky, including fashion designer Rachel Roy, singer Rita Ora and even chef Rachel Ray (who unveiled a lemonade recipe after the implosion). 
But on Tuesday morning, TV personality Wendy Williams took the term to task: "Calling a white girl Becky, I have decided — hi, white people — that is not very nice. That's like calling a black girl 'Shaniqua,'" Williams said. The daytime talk show host then proceeded to call her off-camera producer Susanne "Becky," acknowledging the two use the phrase casually off camera. "I am not using that word anymore, today is the last day I'll use it, and I encourage everyone else, don't call white girls 'Becky,' that is very hurtful."
"Becky" isn't a racial slur. It's always unacceptable for anyone to use a derogatory term to undermine someone based on their skin color — even for Beyoncé. But the name "Becky" itself is categorically not a derogatory term for whites— it's a name popularized in pop culture and society to describe someone as "basic," regardless of their skin color. Beyoncé injecting the reference in a song about being cheated on by Jay Z with another woman, and calling that woman Becky, doesn't immediately imply a white woman slept with her husband, but instead, someone she sees as beneath her. 
The term "Becky" has taken on several meanings. Sir Mix-a-Lot popularized the Becky reference in the early '90s in the intro to his critical hit "Baby Got Back," in which two disapproving women can be heard critiquing another woman's figure and style. The term has since been used to describe a multitude of meanings, from suburban yuppies, according to Online Slang Dictionary,  to a woman who performs oral sex well.
The undermining of the name dates as far back as 1847, in which a novel titled Vanity Fair by William Makepeace Thackeray explored the life of Becky Sharp, a woman who climbed the social ranks by charming rich businessmen and collecting their wealth by tricking them into marriage. 
So, while calling someone a "Becky" has had negative connotations behind it for years, the backlash of it being a racial slur really only came into existence after Saturday night's HBO premiere of Beyoncé's Lemonade.
Meanwhile, those lambasting Beyoncé for including the single line in her 12-track album have yet to mention anything about the singer using actual racial slurs throughout Lemonade.