Michael Jordan, King of North Carolina, Has Come Out Against Gov. Pat McCrory's HB2 Bill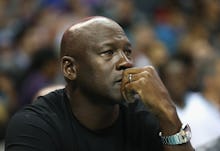 Michael Jordan, king of the court and keeper of the keys to North Carolina's heart, is speaking out against the state's anti-trans legislation.
Signed into law on March 23 by North Carolina Governor Pat McCrory, House Bill 2 bans transgender individuals from using the bathroom that corresponds with their gender identity and forbids local municipalities from prohibiting sexual orientation- and gender based-discrimination in their communities.
Despite being challenged repeatedly on the legislation, McCrory has stayed the course, maintaining that the law is a "common sense" proposal. 
In a statement to the Charlotte Observer, the famously apolitical basketball legend shared that he and his franchises do not support the new law.
"As my organization has stated previously, the Charlotte Hornets and Hornets Sports & Entertainment are opposed to discrimination in any form, and we have always sought to provide an inclusive environment," Jordan said in a statement to the Observer in response to an interview request regarding HB2.
Raw Story reported that although some have dismissed his statement as "weak," Jordan is known for steering clear of political controversy. He stayed silently when Kareem Abdul-Jabbar publicly accused him of ignoring human rights violations by Nike in favor of making profits, and refused to endorse Harvey Gantt, an African American Democrat, who ran for North Carolina Senate against noted segregationist Jesse Helms.
"As has been the case since the building opened, we will continue to ensure that all fans, players and employees feel welcome while at work or attending NBA games and events at Time Warner Cable Arena," Jordan's statement said.
The effects of HB2 on North Carolina's LGBTQ community have been felt widely and swiftly. Calls to the Trans Crisis Hotline have nearly doubled since the legislation was passed, and a host of musicians, corporations and circuses have pulled the plug on their tours and business ventures in the state.
McCory, who once said, "[I]f you're willing to call traveling on Michael Jordan in North Carolina, you're willing to make the tough decisions for the future," is probably looking at the ever-growing list of businesses and celebrities denouncing his state like this right about now: 
Read more: President Obama Just Denounced North Carolina's "Bathroom Bill"