Paris Attack Suspect Salah Abdeslam Extradited to France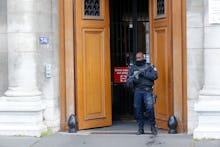 Salah Abdeslam, the Belgian-born French national accused of providing logistical support for and taking part in the Nov. 13 terror attacks in Paris, was extradited to France, where he has been formally charged.
Abdeslam, 26, is believed to be the only survivor of the terror cell linked to the Islamic State group that carried out the operation. He evaded capture for months, including escaping one raid in which a fellow militant was killed by a police sniper. An elite French military unit extracted Abdeslam from Belgium via helicopter early Wednesday and brought him to the Palais de Justice in Paris to prevent any possible attack on the convoy.
French Justice Minister Jean-Jacques Urvoas told reporters Abdeslam will be held in solitary confinement under maximum security conditions and protected by a "dedicated surveillance team of skilled agents, trained for detention of dangerous individuals," according to CNN.
Abdeslam also faces charges of attempted murder in Belgium after militants wounded four police officers involved in the manhunt for him.
This is a breaking news story and will be updated as more information becomes available.