Dennis Hastert Sentenced to Prison After Pleading Guilty to Illegal Money Structuring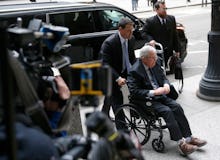 On Wednesday, former House Speaker Dennis Hastert was sentenced to 15 months in prison after pleading guilty to financial misconduct for failing to report a cash withdrawal of $10,000 or over, which was used as hush money amid past accusations of child sex abuse, NBC News reported.
Hastert, 74, requested probation because he recently suffered a stroke; prosecutors asked for a sentence of six months.
Hastert was accused of abusing four boys aged between 14 and 17 during his time as wrestling coach at Chicago's Yorkville High School decades ago. According to court documents obtained by the New York Times, Hastert had agreed to pay one of the victims was $3.5 million.
The abuse allegations cannot be tried due to the statute of limitations.
The judge also ordered Hasten to pay a $250,000 fine, according to the Times' coverage of the hearing. Due to Hasten's visibly declining health — he attended the sentencing in a wheelchair — Judge Thomas M. Durkin said he would recommend Hasten to a prison hospital.
"The defendant is a serial child molester," Durkin said while issuing the sentence, according to the Times. "Nothing is more stunning than having 'serial child molester' and 'Speaker of the House' in the same sentence." 
"The thing I want to do today is say I'm sorry," Hastert said.
During the hearing, one of his victims, Scott Cross, said the abuse he experienced at the hands of Hastert caused him "intense pain, shame and guilt," calling it his "darkest secret."
April 27, 2016, 3:30 p.m.: This story has been updated.