The Real Reason Why Your Fridge Is Covered in 'Save the Date' Cards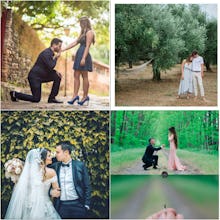 When Angela Bauter started designing and printing wedding save the dates a decade ago, she faced hardly any competition.
To hear Bauter tell it, people just didn't send out save the dates, opting instead for the traditional wedding invitation without precursor. But now, as Bauter said in a phone interview, "it's hard to find any big stationery company that doesn't have a save the date section."
Your refrigerator is probably testament to that. From wedding-themed word searches to sunlit engagement photos, temporary tattoos to custom badges, couples are getting increasingly creative about announcing their big day. 
Save the dates (or STDs for short) are considered a practical way to give guests a head start on travel arrangements in an era of scattered families and destination weddings. Over time, however, they've morphed into an outlet for engaged couples to show off their affection for each other, not to mention their artistic capabilities.
"Plenty of people make their vacation/travel plans pretty far in advance, so I wanted to make sure they had an opportunity to carve out time to attend our wedding. Also, I am a designer and I am really into quality paper goods. Beautiful save the dates and invitations were on the top of my list of wedding must-haves," web designer Kristen Byers, who got married in 2012, said in an email to Mic.
Now, save the dates are personalized according to the couples' interests. "In the past decade I've seen save the dates that were gorgeous and save the dates that were awesomely fun — and then every year I still see something new. Save the dates can relate to where the engagement happened, where the couple met, where the wedding will take place or just something that the couple likes to do together," Bauter said.
Save the dates might primarily exist offline, but as a form of public communication they mirror the online trend to mark every major life event in soft lighting, filtering ourselves carefully to garner "likes."
A phenomenon with purpose:  "Save the dates are getting more popular every year! Why? Because they are fun to send out. And also they can actually be really helpful to some guests who need that advanced notice," Bauter said. 
Kristin Joy, editor of blog Bridentity Crisis, agreed that save the dates are practical, particularly for out-of-town weddings. But she also thinks they reveal how millennial attitudes toward weddings differ from those of previous generations.
"On a deeper sociological level, I think the way that millennials view weddings as a whole is different from previous generations. In the past, weddings were more akin to a rite of passage — kind of like a graduation into adulthood. And as such, the weddings themselves were sort of... standard," Joy said in a phone interview with Mic.
"However, this current generation sees weddings not only as a celebration of their love, but also as a way to invite their dearest family and friends into their world — to give them a greater sense of their personalities, style and, of course, their relationship, through an elaborately planned 'dream party,' if you will." Save the dates, then, serve as the first stage of the "dream party" and set the tone for the celebrations that follow. 
Doing it right: The etiquette on save the dates is actually pretty straightforward: They should be sent out at least six months before the wedding (longer if you're heading overseas) and inform guests of the date and venue of the wedding. Guests should be told that an invite will come later (older folks especially might not realize the save the date isn't the invitation). If you have a website, you can also share the URL.
"The most important thing to do is avoid sending a save the date to someone who isn't going to be invited later.  You can err on the side of not sending a save the date to someone who might be invited later, but not vice versa," Bauter said.
In the interest of preserving your pre-wedding sanity, there are ways to send out save the dates while keeping stress at a minimum. For one, your save the date doesn't need to be physical, as plenty of sites like Paperless Post and Evite offer highly customizable online options. But while it might seem inevitable that save the dates, like much paper communication, will move online,  lifestyle and etiquette expert Elaine Swann cautioned against electronic reminders.
"When it comes in the mail, it's more likely to be put up somewhere than buried electronically," she said. 
Competitive cards: Despite the relatively easy etiquette around save the dates, they can still become a source of stress for brides- and grooms-to-be. What was once a straightforward solution to wedding no-shows has escalated into another occasion when millennials are expected to show off their perfect, heavily filtered lives.
For couples who decide against picture-perfect save the dates, the pressure is on instead to beat out their friends in terms of creativity, leading to increased stress and wedding expenses. 
"Brides do stress about their save the dates because it's the first wedding detail that their guests will see, and it sets the tone for how the wedding will be. And now, more than ever, couples want to send something that reflects their personalities," Joy said. One couple that met at school, for instance, sent out a save the date library card detailing the stages of their relationship, while a pair who met in a chemistry class sent out test tubes filled with wildflower seeds. 
As cute as these ideas are, it can be easy to forget when you're sending out personalized pencils or getting your dog to sit still long enough to take an adorable photo that you still have months of wedding prep to go.
"I know sites like Pinterest, Loverly, and Style Me Pretty can be great sources of inspiration, but I really recommend brides log off their computers and think about what they and their [significant other] love, then channel that into their [save the date]," Joy suggested.
And once you've mailed out your save the dates, you can finally breathe a sigh of relief — after all, it's one less thing you have to freak out about before the big day. Now about those wedding invitations...