As Fans Celebrate Drake's 'Views From the 6,' Here's How the Rapper Became Famous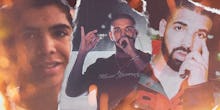 He raps about countless women and the holds they have on his heart, though he admitted he's never fallen in love. He's surprisingly bad at basketball, despite having a cast of all-star athletes and NBA players in his circle. He might not always write his own lyrics (though he does make his own whiskey), but the help he employs comes from a deeply loyal squad of hitmakers. 
As fans celebrate Views From the 6, an LP Canadian rap legend Drake hailed as a "life soundtrack," it's these gems that have helped turn Degrassi childhood actor into one of the most interesting and unpredictable men in rap.
Aubrey Drake Graham was born on October 24, 1986 in Toronto, aka "the 6," into a family of musicians (his father, a drummer for Jerry Lee Lewis, his uncle being Teenie Hodges). At just 5-years-old, his parents divorced, and he went to live with his white, Jewish mother in the upper middle class Canadian suburb of Forest Hill. 
Graham was fortunate enough to attend school in a privileged community, yet maintaining this lifestyle stretched his mother's budget pretty thin. His mother rented the basement and first floor of a house within the district so her kids would be able to have a better life than her. His mom "was willing to live far beyond her means for her family," Drake told radio host Jian Ghomeshi in 2013. "I grew up with a mom who was deep in debt because she wanted best for family."
It was his father who introduced a young Drake to a world of rap music as the two visited his father's hometown of Memphis, Tennessee, where the future hitmaker would spend most of his childhood summers. Southern rap music had a lasting effect on the impressionable kid, who would later tell Ghomeshi "it opened up not only my mind but my ears."
Drake didn't immediately dive into the American music scene, however. He'd eventually return to Canada, where he was cast as Jimmy Brooks, a student and budding rapper, on the critically successful reboot of a Canadian TV series titled Degrassi: The Next Generation at 15-years-old. 
The career move catapulted Drake into the hearts of millennial audiences worldwide. Fans of the show and of the rapper's winding backstory will likely remember the most defining moment in his acting career in vivid detail — when Drake's character was shot and paralyzed during a dramatic two-part special.
After the show took this turn, Drake gradually began to inject his character's passion for rapping into his own life. He had been rapping on and off until his career with Degrassi came to an end in 2009, releasing his first mixtape in February 2006, titled Room for Improvement. Several tracks caught the attention of rapper Lil Wayne, who began to follow Drake's career. 2007 was his biggest year in music before leaving the show and investing his energy full time into creating raps, releasing Comeback Season and remixing "Man of the Year" with Lil Wayne. 
Drake became a mainstay in the American rap scene in 2009, carving out a new lane that rap had rarely seen before. He presented himself as a rapper in touch with his emotions, comfortable baring his soul over soul loops. It pinned Drake with the label of "soft," but his song "Best I Ever Had" became a critical success nevertheless. It reached No. 2 on the charts without the newcomer even having to ink a record contract. 
He would later sign a major deal with Cash Money/Universal Motown Records after what was considered one of the most monumental bidding wars within the music industry at the time. The rapper was hard at work throughout 2009, dropping a mixtape titled So Far Gone and prepping the release of his first official studio album, Thank Me Later, which would arrive in June 2010.
His next album, Take Care, earned Drake his first — and thus far only — Grammy for rap album of the year in 2013. When the trophy came in the mail, he celebrated by taking shots out of its flaring horn.
Since establishing himself in rap, Drake has extended his hands into a number of other business pursuits. In 2010, he teamed up with the luxury fashion designer Canada Goose to create a custom OVO limited edition jacket. In 2013, he became the global ambassador for the NBA's Toronto Raptors, though it isn't exactly clear what Drake's responsibilities are, other than showing face at basketball games. He's also hosted ESPN's the ESPYS awards show, and has created his own radio station called OVO Sound Radio on Beats 1. 
Drake hasn't had a perfectly untouched career, however — the rapper faced backlash for wanting to build a collaborative album with recordings from deceased R&B singer Aaliyah, whom the singer admired but had never actually met. The album was also supported by Lil Wayne, though the two decidedly dropped the album off their agenda after fellow entertainers close to Aaliyah, including Timbaland and DMX, spoke out.
He's also faced continued scrutiny for his involvement in altercations with other rappers, the most controversial being his feud with Chris Brown. The two exchanged subliminal shots online before eventually taking their fight to a New York club, in which Brown has alleged that Drake's entourage threw a bottle that cut open his face. 
Since then, Drake has continued to expand on his carefully constructed empire, while attempting to remain the Canadian suburban boy who played Jimmy on Degrassi. It's a fine line to walk, and one he's still finding his balance on. However, his ability to stay relevant and influential in a rap game increasingly centered upon the one-hit wonder shows the kid from the 6 might be onto something bigger than anything the music industry has seen thus far. 
Read more: Drake's 'Views From the 6' Is Almost Here, and the Memes Are Out in Full Effect