Kim Kardashian Shuts Down Troll Who Tried to Shame Her Post-Pregnancy Weightloss Journey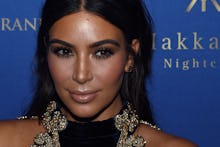 Since giving birth to Saint West in December 2015, Kim Kardashian West has been motivated to lose her baby weight; in addition to working out (or rather: fitting exercise in whenever she can), Kim has adopted the Atkins diet to help lose the 60 pounds she gained during her pregnancy, as well as the extra 10 she gained in the last few years. But that hasn't stopped people from accusing her of getting surgery to quickly rid herself of her pregnancy weight.
Proud of her sister's accomplishment, Khloe posted a photo of Kim on Instagram over the weekend, and proclaimed Kim to be the "snap back queen." 
Read more: From Kim Kardashian West to Wentworth Miller, 5 Celebs Who Took Down Their Body Shamers
However, not everyone shared the same congratulatory sentiments; user sue_ema commented on Khloe's photo, accusatorially saying "Lipo/tummy tuck duh! Post videos working out as if she did all the work lol."
Kim didn't take sue_ema's now deleted comments (and deleted account) too lightly; the Shade Room nabbed a screenshot of Kim's response. "You miserable troll!" Kim said. "I work my ass off and have been dieting for months! i have such pride in my post pregnancy weight loss game... 50 pounds down as of today and 20 more to go! Just wait for my next nude shoot, you'll see no tummy tuck/lipo scars! Let's see your body hiding behind your private account!"
In short:
Also: it would seem that another nude selfie is forthcoming.