UCF Library Evacuated After Muslim Girl Praying Gets Reported as Gun Threat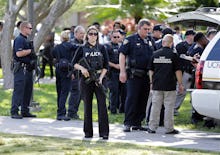 This is why we can't have nice things.
In an incident that made headlines across the state, students and staff were evacuated Tuesday from the University of Central Florida's main library after campus police got word "there was a woman with a gun" inside the building, UCF Police Department spokeswoman Courtney Gilmartin told the Knight News.
In fact, witnesses say the "threat" was just a Muslim student praying. 
After a social media post and multiple emergency phone calls alerted local law enforcement to a "person of Middle Eastern appearance" in the John C. Hitt Library carrying a firearm, authorities cleared and searched the building and found nothing, UCF Police Chief Richard Beary said Wednesday at a press conference. 
"Ultimately, no gunwoman or suspicious activity was found," Beary wrote in a separate Twitter post.
Anthony Scotto, a 21-year-old UCF student who was in the library at the time, told Mic the debacle was a clear-cut case of racial profiling. 
"The person who started the rumor was just racial profiling because the girl was wearing a hijab and praying," he said. "Real ignorant if you ask me."
"I didn't see the gun, but she's 90% sure that's what she had in her hands. And the girl was, like, Muslim and in a corner, like, freaking out."
Beary told reporters Wednesday the police department got wind of the alleged threat through a student's Facebook post. Beary read the transcript of the post during a livestreamed press conference.
"I was with [redacted] in the stairwell when we saw the girl," the unidentified student wrote, according to Beary. "I didn't see the gun, but she's 90% sure that's what she had in her hands. And the girl was, like, Muslim and in a corner, like, freaking out. We ran out and told the desk and they had apparently already had suspicious activity reported, so even if it ends up being nothing, I would steer clear from the library for a while. It's finals week in one of the biggest schools in the U.S. It's better to play it safe."
Soon after, a series of phone calls flooded UCF police headquarters. The Knight News has since obtained nine of these calls and found that only one of them was from a person who claimed to have seen this alleged armed Muslim woman firsthand. The other eight were from people who'd heard rumors or read about the threat in social media posts. 
Armed police officers barged into the library nonetheless. At around 5 p.m., after evacuating the building, sending several tweets telling students to avoid the area, and concluding their search, police finally tweeted an all-clear:
"Yesterday afternoon, a social media post about a person with a gun inside the UCF library was brought to UCFPD's attention," Beary said in a statement the next day. "Multiple calls to UCFPD followed, some of which described a person of Middle Eastern appearance, possibly a woman, having a gun in the library ... Ultimately, no gunwoman or suspicious activity was found."
At least two witnesses have since said a young woman wearing a hijab and praying in a corner at the library had alarmed other students. One witness who identified herself as a Hitt Library employee said the "threat" was a woman "literally just praying," according to Knight News:
Scotto, the 21-year-old student, told Mic he was sitting at a cubicle near a stairwell on the fourth floor of the library when his fraternity brothers texted him. They'd learned about the threat via social media — before the police responded — and wanted him to stay safe. 
Scotto was confused: Could they possibly be talking about the girl sitting at the desk in front of him? While walking up a flight of stairs to find a seat a few hours earlier, Scotto had seen the girl wearing a hijab, praying. He said he then noticed her sitting just a few feet away in an adjacent cubicle.
"I didn't really think much of it," Scotto said. "So I sat down, she ended up being one cubicle in front of me. We were there for a couple hours and then I started hearing the rumors about her possibly having a gun. But I didn't see anything. She looked just like every other student studying. And when we evacuated she walked out with the rest of us."
The alleged gunwoman has not been identified. But her physical description and behavior: a Muslim woman in hijab, praying — paired with her location and timing — in a stairwell at John C. Hitt Library shortly before police were alerted to a "threat," suggest the woman witnesses encountered is one and the same.
The police response seems outsized given how events played out, but it's important to note that gun violence on college campuses is a serious concern. Recent shootings at Umpqua Community College in Roseburg, Oregon, Northern Arizona University in Flagstaff, Arizona, and others have added to a seemingly endless epidemic of mass shootings across the United States — one that UCF police would have been remiss in failing to respond to, whether real or alleged.
Yet the fear generated Tuesday at UCF by a student simply going about her religious business reflects a broader trend of Muslims being perceived as threats due to their appearance and ethnicity alone. This has taken place most often in airports and on airplanes: One college student was kicked off a Southwest Airlines flight in California earlier this month after a passenger got scared when she heard him speaking Arabic; a woman in hijab was also removed from a plane in Chicago this month after she asked to switch seats with one of her fellow passengers.
But it happens in schools as well. In a now notorious incident, a 14-year-old boy named Ahmed Mohamed was arrested after teachers at his high school in Irving, Texas, mistook the homemade clock he brought to school for a bomb. After the media frenzy that ensued, Mohamed and his family made an understandable decision: They decided to leave the U.S. altogether. In October, the Washington Post reported Mohamed had accepted a scholarship from a youth tech program in Qatar.
This is a developing story. Check back for updates.