Male Employee Found Dead at Apple Headquarters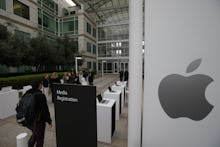 The body of a dead male and an injured female were found on Wednesday morning in a conference room at Apple's campus in Cupertino, California, TMZ reported. 
The Santa Clara County Sheriff's deputies told TMZ that the call came in as a "possible suicide."
Santa Clara County Fire Department PIO Stephanie Stuehler said in a phone call that the fire department dispatched to Apple's 1 Infinite Loop headquarters after it received a medical call, but that the team was then called off. Mercury News reported that the call was for a "Hispanic with a head wound."
A sheriff spokesperson has confirmed that the fatality was an Apple employee and that no one else was involved, according to ABC7 reporter Matt Keller. 
"When they responded to the campus they found one individual male down, determined that he was deceased and with further investigation they determined that there was no other individuals involved and they believe it was an isolated incident and that there is nobody else on campus or in the public that are at risk," Santa Clara Sheriff Sgt. Andrea Urena said in a video posted by San Jose Mercury News reporter Mark Gomez.
This story is breaking and will be updated as more information becomes available. 
April 29, 2016, 9:28 a.m.: TMZ erroneously reported that multiple people may have been involved in this incident. The story has been updated to reflect that only one person was involved.