Michigan Police Officer Buys Car Seat for Man's Daughter After Pulling Him Over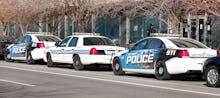 When LaVonte Dell was pulled over by the Westland, Michigan, police April 18 for tinted windows, his first reaction was one with which many are familiar. "When he hit the lights, I did what probably everybody would do," Dell told local television station WXYZ. "Heart dropped. Went to my stomach."
What happened next, however, Dell did not expect.
Officer Joshua Scaglione, who made the traffic stop, realized that Dell was driving with his 3-year-old daughter who was not sitting in a car seat. "I asked him why is she back there without a car seat. It's not safe. He teared up a little bit and told me he was going through some tough times," Scaglione told WXYZ. 
After asking Dell if he could use a car seat for his daughter, Scaglione had Dell follow him to a nearby Walmart, where the Scaglione bought a new car seat. "He purchased one for me, and it was pink, which is my daughter's favorite color," Dell told ABC News. "It has butterflies and she loves it."
The Westland Police Community Partnership shared the story, which has gone viral. "As many of you may have heard, we had an incident occur on Monday in which an officer conducted a traffic stop on a car for having tinted windows," the Facebook post said. "While speaking with the driver, the officer noticed that there was a child inside who was not in a car seat. The officer took it upon himself to take the driver to Walmart and purchase a car seat for the child. The officer paid for this car seat out of his own pocket."
After buying the car seat, Scaglione left without giving his name. When the Westland Police Department discovered who was behind the good deed, it set up a meeting between the two. 
"I had no other choice but to do that for you," Scaglione told Dell when the two met once again, according to Tribune Media Wire. "You have a daughter and she is a No. 1 priority and you deserve it."