1 Shocking Statistic Exposes Chicago's Racial Divide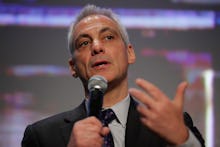 What do 94% of the people who donated to embattled Chicago Mayor Rahm Emanuel's re-election campaign in 2015 have in common?
They're all white.
Read more: Bernie Sanders Just Took the Boldest Stance of Any Candidate on the Laquan McDonald Case
Amid controversies over cuts to public services and education in disproportionately poor and minority neighborhoods, and months before suspicions over the mayor's role in suppressing inquiries into the police killing of 17-year-old black teenager Laquan McDonald became a major controversy, Emanuel was financing his $24.4 million campaign almost exclusively via white people, a new study finds.
About 94% of donors to Emanuel's campaign were white, even though white people comprise just 39% of Chicago's total population, according to the new report, from progressive think tank Demos. Emanuel's donors almost entirely (84%) gave large contributions of $1,000 or more. A staggering 80% of his donors had an annual income of at least $100,000 or more, despite just 15% of Chicagoans making six figures.
"What's so extraordinary about the Chicago donor class is for such a diverse city to have such a white donor class," study author and Demos policy analyst Sean McElwee said in an email. "Though data are still preliminary, Emanuel's donor class does appear whiter than the other mayors of diverse cities I've examined."
Additionally, just 36% of Emanuel's donors actually lived in the city of Chicago.
His progressive competitor, Jesus "Chuy" Garcia, recruited a considerably more diverse donor pool — but one that managed to raise just $7.1 million.
According to McElwee, the data suggests Emanuel's key bankrollers share an entirely different set of priorities than the majority of Chicago voters. As mayor, Emanuel has presided over major budget cuts to public services. 
"There are deep divides between the donor class and the general public," McElwee wrote in the report. "The current path Chicago is following, with cuts to mental health services, infrastructure and public schools, is responsive to the preferences of the donor class, not average Chicagoans." He added,
Chicago has closed 49 schools, predominantly in black neighborhoods. In addition, the city has closed six of the city's 12 mental health clinics, which was supposed to pull in $2.2 million in savings, though the city then paid $500,000 to private facilities in order to meet demand. A recent wave of spending cuts hit Chicago State University, the only state college that predominantly serves black students, particularly hard. The college may have to close, or dramatically reduce staff and classes offered.
Following Emanuel's successful re-election campaign, the McDonald shooting controversy saw the mayor's popularity rating dip to a record 27% low, with four out of 10 Chicagoans saying he should resign, according to the Chicago Tribune. McElwee said, 
While we don't have data about donor attitudes towards police, we do know that whites tend to be more supportive of punitive punishments, more supportive of police and blind to the realities of discrimination. Thus, the overwhelmingly white donor class could certainly bias criminal justice policy. It's worth wondering how Rahm might have responded to the McDonald shooting if his donor class was 94 percent black.
"So far in the 2016 election cycle, we've had conversations about race and we've had conversations about money in politics, but those conversations have rarely been linked," he added. "I hope that this report will lead to a conversation about how money in politics prevents action on racial justice."