Ted Cruz Picks Carly Fiorina as Running Mate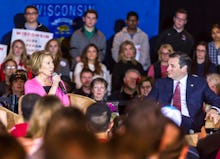 Now she's officially a member of the Cruz Crew.
Texas Sen. Ted Cruz will announce Wednesday he's chosen former Hewlett-Packard CEO and onetime presidential hopeful Carly Fiorina to serve as vice president if he wins, according to multiple news reports.
Fiorina endorsed Cruz on March 9 after her own campaign for the White House failed to launch.
Read more: Carly Fiorina Suspends Presidential Campaign After Disappointing Showing in New Hampshire
The only major female candidate in the Republican presidential field before she bowed out Feb. 10, Fiorina has kept up a steady drumbeat of criticism of Democratic frontrunner Hillary Clinton.
That's something which could make her particularly valuable to Cruz: It arguably allows his campaign to attack Clinton while avoiding accusations of misogyny.
The timing of the announcement is telling: GOP frontrunner Donald Trump swept all five states that voted in Tuesday's primaries, raising questions about whether the Cruz campaign has run out of steam.
"Let's use a cliché: It's a Hail Mary pass right before a must-win primary [for Cruz] in Indiana," said Larry Sabato, director of the University of Virginia Center for Politics.
"There will be a lot of media attention on this. Picking a VP by someone other than the nominee hasn't happened since 1976 — so a once-every-forty-years phenomenon calls for coverage," Sabato said. "Maybe this creates a bump for Cruz. And no one gets under Trump's skin like Carly ("Look at that face") Fiorina. That's not a bad formula for Cruz, though it may not work out as expected."
Although she never reached the top tier of Republican hopefuls, the tech expert enjoyed a brief surge in popularity thanks to her tough-talking debate performances.
Those debate turns ramped up chatter about Fiorina as a potential VP pick. She insisted throughout her campaign, however, that she was "running to beat Hillary Clinton" and hoped neither she nor her Democratic nemesis would be judged on gender alone.
Her stewardship of Hewlett-Packard allowed Fiorina to bolster her campaign with the distinction of being the first woman to run a Fortune 50 business. It also provided grist for critics — Trump among them — who said she did a lousy job of running HP, raking in big bucks while 30,000 people lost their jobs in a 2002 merger with Compaq.
Ahead of the Cruz announcement, Fiorina's Twitter feed seemed to be in build-up mode, featuring short video clips with compassionate messages about helping Americans who feel the system is "rigged" against them.
More tellingly in regard to her role as a potential pit bull surrogate for Cruz in a general election battle against Clinton, the feed also included a clip of Fiorina attacking the Democratic frontrunner on women's rights.
"It is the height of hypocrisy for Mrs. Clinton to run for president as a champion of women's rights when her record as secretary of state is so dismal," Fiorina said.
Cruz is slated to make an official announcement at 4 p.m.