Drake's 'Views From the 6' Is Almost Here, and the Memes Are Out in Full Effect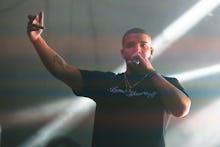 Canadian hip-hop star Drake is mere days away from dropping his new album, Views From the 6 — which is set to arrive on Apple Music on Friday, April 29. And the internet can barely contain its collective excitement. 
On Sunday, Drake debuted the Views From the 6 album art on Twitter:
Which, naturally, inspired countless memes:
Before it officially drops on Apple Music on Friday, Views From the 6 will air in its entirety on Apple Music's OVO Sound Radio in what the service is calling a "Global Listening Party" on Thursday at 10 p.m Eastern, Billboard reported.
Drake's fans can likely expect that, come Friday, the internet will be swarmed with memes, reviews and think pieces about the latest album from Drizzy.