Here's What's Coming to (and Leaving) Netflix in May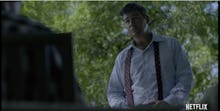 April was a great month for TV and movies — and not just because Game of Thrones, Veep and Silicon Valley finally came back into our lives. Netflix's beloved comedy Unbreakable Kimmy Schmidt returned for season two, and Disney's CGI reboot of The Jungle Book was a critical success. 
But there's reason to look ahead, too. In May, Netflix subscribers will be treated to a new season of the Emmy-nominated family drama Bloodline, as well as the late night debut of the titular Chelsea, with Chelsea Handler. 
Below, you can check out the full lineup of what's coming to Netflix for May, and a last-chance notice on some of the titles we're losing.
Read more: Netflix Prices Are Going up Starting May 1st
Coming to Netflix in May: 
May 1: 
A Study in Sherlock
Admiral
Ava's Possessions
Bring It On
Bring It On: All or Nothing
Easy Living, Seasons 1-3
El Crítico
FernGully 2: The Magical Rescue
Finger of God
Gary Gulman: It's About Time
Great Expectations
I Am Road Comic
Jesus Town, USA
Just Friends
Kevin Hart Presents Keith Robinson: Back of The Bus Funny
Kevin Hart Presents Lil Rel: RELevent
Kevin Hart Presents: Plastic Cup Boyz
LoliRock, Season 1
My Last Day Without You
The Nutty Professor
Off the Map
Palm Trees in the Snow
Pleasantville
Shark Lake
She's Beautiful When She's Angry
Sixteen Candles
Sugar Coated
Terra
Things We Lost in the Fire
To Catch a Thief
Tom Petty and the Heartbreakers: Runnin' Down a Dream
Who's Driving Doug
May 2:
The Replacements
May 3:
Submerged
May 4: 
The Keeping Room
Shanghai Knights
May 5:
Fourth Man Out
Marseille, Season 1 (Netflix Original)
May 6: 
Ali Wong: Baby Cobra (Netflix Original)
Baby Daddy, Season 5
Grace and Frankie, Season 2 (Netflix Original) 
Young & Hungry, Season 3
May 8: 
The Chosen Ones
May 9:
A Stand Up Guy 
May 10: 
Eisenstein in Guanajuato
May 11:
Chelsea (Netflix Original) 
Goosebumps 
They Look Like People
May 12: 
Bleeding Heart
May 15: 
We Are Still Here
Yo soy la Salsa
May 17:
American Dad!, Season 2 
Kindergarten Cop 2
Slasher, Season 1
May 18: 
A Girl Like Her 
May 19: 
Benders, Season 1 
May 20: 
Lady Dynamite, Season 1 (Netflix Original)
May 22:
David and Goliath
The Letters
The Ouija Experiment 2: Theatre of Death
May 23: 
Electricity
May 26: 
Graceland, Season 3
The Last Man on the Moon
May 27:
Chef's Table, Season 2, Part 1 (Netflix Original) 
The Do-Over (Netflix Original)
Mako Mermaids, Season 4 (Netflix Original)
Bloodline, Season 2 (Netflix Original)
May 28: 
Hell on Wheels, Season 5 
The biggest movies leaving Netflix in May: 
Bill and Ted's Excellent Adventure 
Anna Karenina 
Blade Runner
The Ladykillers
Black Hawk Down
Election