Chobani Is Giving Its Employees Up To 10% of the Company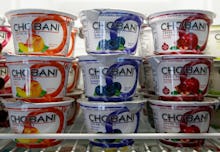 Probiotics aren't the only added benefit hiding out in Chobani yogurt. The company announced Wednesday morning plans to grant plant workers at its upstate New York facility shares worth 10% of of its total valuation — a move that could make some of them millionaires.
The yogurt giant was founded in 2005 by Hamdi Ulukaya, a Turkish immigrant, who told the New York Times that his goal was to give employees a piece of the success story that they helped to create.
"I've built something I never thought would be such a success, but I cannot think of Chobani being built without all these people," Ulukaya said. "Now they'll be working to build the company even more and building their future at the same time."
The most recent estimate of Chobani's valuation falls somewhere between $3 billion and $5 billion. According to the Times, workers would make an average of $150,000 at the $3 billion valuation, and the earliest employees eligible for the most shares could stand to gain over $1 million.
"This isn't a gift," Ulukaya wrote in a letter addressed to his staff. "It's a mutual promise to work together with a shared purpose and responsibility. To continue to create something special and of lasting value."
Ulukaya has a history of good business practices. Chobani already offers its full-time employees salaries above minimum wage and full benefits, and has an established 401(k) plan that workers are encouraged to contribute to. In an article on why higher wages matter for CNN Money, Ulukaya also extolled the benefits of hiring hundreds of refugees to work for his company, calling them "...some of the most talented, dedicated people I've ever met."
Rich Lake, a lead project manager and one of the first five employees in Chobani's New Berlin plant, told the Times the pride of owning something he'd helped to create was worth far more than the monetary reward.
"It's better than a bonus or a raise," he said. "It's the best thing because you're getting a piece of this thing you helped build."