Kim Kardashian Is Taking Down the 'Wall Street Journal' Ad Denying Armenian Genocide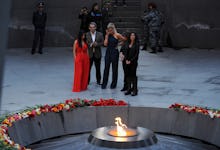 Kim Kardashian West usually populates her website with style and beauty tips, photo shoots and inside looks into her personal life. But Kardashian West got political Wednesday when she wrote a post condemning the Wall Street Journal for running an ad denying the Armenian genocide last week.
According to Gawker, the ad included the words "Truth = Peace" and sourced FactCheck Armenia, an organization claiming the 1915 genocide against the Armenian people never happened.
"It's one thing when a shitty tabloid profits from a made-up scandal, but for a trusted publication like WSJ to profit from genocide — it's shameful and unacceptable," Kardashian West wrote. "Why is it that every time we take one step forward, we take two steps back?"
Read more: George Clooney Wants the US to Finally Recognize the Armenian Genocide
When Gawker reached out to the Wall Street Journal for comment on the full-page ad, a spokesperson stated, "We accept a wide range of advertisements, including those with provocative viewpoints. While we review ad copy for issues of taste, the varied and divergent views expressed belong to the advertisers."
Kardashian West wasn't having it. She called out the WSJ for hypocrisy, writing that the publication wasn't putting forth a "provocative viewpoint" so much as it was "spreading lies." 
"It's totally morally irresponsible and, most of all, it's dangerous," she said. "If this had been an ad denying the Holocaust, or pushing some 9/11 conspiracy theory, would it have made it to print?"
Last year, Kardashian West publicly spoke out about the genocide in an essay for Time honoring its 100th anniversary following her trip to Armenia where she visited the nation's capital Yerevan, honored the victims at a memorial and met with Prime Minister Hovik Abrahamyan. 
"We have to be responsible for the message we pass on to our children," she wrote Wednesday. "We have to honor the TRUTH in our history so that we protect their future. We have to do better than this."
Read more: What Kim Kardashian West Has Said About Her Armenian Heritage