"Humbled and Honored" Carly Fiorina Accepts Ted Cruz's Vice Presidential Offer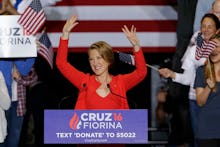 Republican presidential candidate Ted Cruz formally announced the selection of businesswoman Carly Fiorina as his vice presidential running mate on Wednesday, seeking to infuse his flailing candidacy with new energy following a series of defeats to frontrunner Donald Trump.
Hailing the former Hewlett-Packard chief executive as an "extraordinary leader," Cruz said Fiorina knows "firsthand" how to create new jobs and is "someone you can be confident in" should she ever ascend to the presidency.
Read more: Ted Cruz Reportedly Picks Carly Fiorina as Running Mate
"Today I'm very proud and very humbled and honored to announce that I have accepted Sen. Ted Cruz's offer to be his vice president for the Republican nomination," said Fiorina, who endorsed Cruz's presidential bid in March after ending her own bid for the White House.
If the selection of a ticket mate before the primaries have even concluded is unconventional, it was only fitting that Fiorina used the occasion to break into song:
When she wasn't carrying a tune, Fiorina framed the choice for voters as nothing less than one about the identity of the Republican Party and the country.
"There is a lot at stake, and this is a fight for the soul of our party and the future of our nation," she added. "This is a fight worth having, this is a fight worth winning and with your help, you will win this fight."
Fiorina is no stranger to tussling with Trump, whose insurgent candidacy has roiled a panicked GOP establishment.
During her fleeting surge in the polls last year, Fiorina came under fire from the frontrunner, who poked fun at her physical appearance in an interview with Rolling Stone, exclaiming, "Look at that face! Would anyone vote for that? Can you imagine that, the face of our next president?"
Asked to respond to Trump's remarks at a GOP debate days later, Fiorina responded, "I think women all over this country heard very clearly what Mr. Trump said."
On Wednesday, Cruz lauded "the class and the elan with which Carly responded," calling his new running mate a "strong, powerful woman."
It will take a great deal more than strength to derail a steamrolling Trump Train, though.
Following his near-sweep of delegates in five mid-Atlantic primaries on Tuesday, Trump is on track to reach the 1,237 delegates required to win the nomination without a floor fight at the Republican National Convention in July. Trump needs to win only about 46% of the remaining delegates up for grabs, while he's won 48% of those already allocated.
But Cruz hopes to notch a victory over Trump in the May 3 Indiana primary — hence the location for Wednesday's announcement. The Hoosier State's primary will award 57 delegates, awarded both statewide and by congressional district.
Polls currently show Trump edging Cruz in the state, with the RealClearPolitics average finding the frontrunner at 39% support to Cruz's 33% and John Kasich's 19%.