Drake Teases 'Views From the 6' Album Track List on Twitter, Fans Go Wild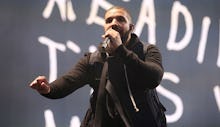 As fans await the long anticipated Views From the 6, Drake's "life soundtrack" set for release Friday, he teased the album track list on Twitter. It'll include 20 tracks, featuring several of the hits he's recently released, from "Hotline Bling" as a bonus song to "Pop Style" featuring Jay Z and Kanye West. 
Though the track list does not include any featured artists, it seems likely some of the biggest names in the music industry will be involved in Drake's latest process ("Pop Style" does not include feature credits for West or Jay Z). The album will also include "One Dance," Drake's recently released single that became his first Canadian No. 1 hit. 
Below is the Views From the 6 track list:
1. "Keep the Family Close"
2. "9"
3. "U With Me?"
4. "Feel No Ways"
5. "Hype"
6. "Weston Road Flows"
7. "Redemption"
8. "With You"
9. "Faithful"
10. "Still Here"
11. "Controlla"
12. "One Dance"
13. "Grammys"
14. "Childs Play"
15. "Pop Style"
16. "Too Good" 
17. "Summers Over Interlude"
18. "Fire & Desire"
19. "Views"
20. "Hotline Bling"
Fans unsurprisingly had a field day with the album tease, also demanding Drake fork over his features: