Daniel Radcliffe Is Pretty Disgusted With the Gender Wage Gap in Hollywood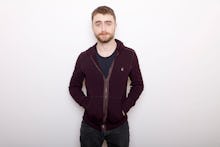 Aside from playing a pretty compelling wizard, Daniel Radcliffe is one of the more likeable Hollywood celebrities for his public support of feminism, a topic he hasn't shied away from in the past. However, the Harry Potter star admitted he had some naivety about the gender wage gap in the industry, and just how far it reached. 
During an interview this week with the Daily Telegraph Australia, Radcliffe opened up about how, in his mind, "there is no earthly justification for that pay not being equal." 
"It is nuts to me," he said. "I'm incredibly glad [gender equality] has come up because I had just fucking naively thought this was not an issue any more because how can this still be happening?"
Radcliffe went on to cite the controversy surrounding the wage disparity in the Oscar-nominated American Hustle, as the female leads in the film (Jennifer Lawrence and Amy Adams) were paid less than the likes of co-stars Jeremy Renner, Christian Bale and Bradley Cooper — the latter of which shared his salary information with his female co-stars. 
"Please correct me if I'm wrong — but if I have this right, they had all the boys on one deal and all the girls on another deal," Radcliffe said. "That, to me, is shocking ... stuff like that is crazy and the thing I can't help but think is 'Who? Who's doing that? What guy is sitting in a studio somewhere thinking let's fuck the girls out of some money'?"
While there have been actresses who have spoken up about the wage gap — notably, Patricia Arquette at the Oscars in 2015 — there's a still a lot of work to be done. 
"I feel like there's such a wealth of amazing actresses in the world right now and we've got to start writing better parts for them and paying them equally," he said. 
Hard to argue with that. 
Read more: Sexism in Hollywood Is Alive and Well — And These Casting Call Horror Stories Prove It