Is Beyoncé Dancing to "Fuck Donald Trump" On First Night of Formation World Tour?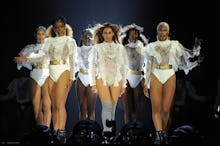 Beyoncé kicked off her Formation World Tour Wednesday night at Marlin's Park in Miami, where she performed an eclectic variety of her greatest hits, as well as recent tracks off the groundbreaking visual album Lemonade. As fans are still exploring the underlying political themes found in Beyoncé's sixth solo studio album, a video from her Wednesday night performance immediately went viral as it appeared that the "Formation" singer broke into a casual dance number to the repeated phrase: "FUCK DONALD TRUMP."
Queen Bey was performing her single "Countdown" when the tune suddenly changed, phasing into a hard dance beat. One Twitter user wrote, "I feel blessed and safe now that I've seen Beyoncé dance to 'Fuck Donald Trump.'"
While the quick sampling added to "Countdown" certainly does sound as if it's lambasting the leading Republican frontrunner and business billionaire, Beyoncé and her dancers are actually getting in formation to the words, "pop my trunk." It's off Wine-O's 2006 single "Pop My Trunk," but isn't it fun to dream?
The international megastar is taking a jab at her recent naysayers, attacking the singer for being everything from anti-family to anti-police, even though she's made it clear she's only anti-police brutality. Still, she must have found humor in Miami's police union calling on officers to boycott working during her tour, as Twitter users uploaded photos from Wednesday night holding "Boycott Beyoncé" merch being sold at the venue.