Tennessee Bill Bans Programs Promoting Gender-Neutral Pronouns, Tramples on Free Speech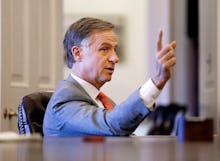 Last week, Tennessee legislators passed a budget bill denying $436,700 of state funds to the University of Tennessee-Knoxville's office for diversity and inclusion. Officially known as House Bill 2248, the legislation also stipulates that the state government will not fund any campus initiatives promoting the use of gender neutral pronouns, inhibiting the celebration of religious holidays or supporting the college's "Sex Week," a program designed to spark discussion about sex, sexuality and gender identity. 
Instead, 25% of the money — in other words, $109,175 — will go to UT Knoxville's art and design programs in addition to its mail services solely for the sake of producing decals bearing the national motto "approved by the United States Congress in 1956." If you're thinking "E pluribus unum," think again. 
The decals, which will go on the vehicles of local and state law enforcement agencies, will read "In God We Trust."
Read more: Tennessee Legislators Vote to Make the "Holy Bible" the State's Official Book
According to the Huffington Post, Tennessee governor Bill Haslam hasn't yet decided whether he will sign the bill into law, but hundreds of UT Knoxville students are fighting to have it vetoed.
On Tuesday, almost 300 students and faculty members staged a mass walkout in protest of the legislation while others held a demonstration this past Sunday and nearly 2,000 signed a petition to "defend diversity."
The bill states the remaining 75% of the money stripped from the Office for Diversity and Inclusion will go to the university's minority engineering scholarship program. However, representatives from the National Association of Diversity Officers in Higher Education emphasized in a statement that the bill represents a larger problem for United States universities.
The association's statement read, "Defunding such offices ignores the important role of diversity and inclusion operations across the country in leading change, and addressing the lingering effects of past discrimination in this country, and solving societal problems and evolving challenges in a culturally informed and ethical ways."