Yale Just Decided to Keep a Controversial Name for Its Residential House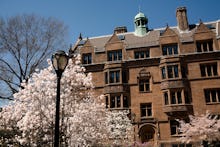 In a compromise with student activists concerned with social inclusivity, Yale University has decided to change the title for top administrators of its residential colleges from "master" to "head of college" but declined to rename the residential college named after James Calhoun, a 19th-century American politician and vociferous advocate for slavery.
The decision, which was explained in an email sent out to the Yale community by university president Peter Salovey on Wednesday evening, came after months of deliberation and input from thousands of members of the college community, a process that was fraught with tension after the school was racked by protests over racial insensitivity on campus in late 2015.
Read more: Professors' Group Warns Against Using Anti-Sexual Harassment Policies to Police Speech
Salovey made it clear that the use of the term "master" at Yale had its origins in long-established traditions in Western collegiate education but said that the term still carried a uniquely unpleasant weight for some members of the community.  
"Some members of our community argued that discarding the term 'master' would interject into an ancient collegiate tradition a racial narrative that has never been associated with its use in the academy," he wrote. "Others maintained that regardless of its history of use in the academy, the title — especially when applied to an authority figure — carries a painful and unwelcome connotation that can be difficult or impossible for some students and residential college staff to ignore."
Ultimately, the administration decided that the reasons to change the title outweighed the reasons to retain it, and that "the current masters themselves no longer felt it appropriate to be addressed in that manner." 
On the matter of Calhoun College, a residential college name that was repeatedly targeted by student activists last fall, Salovey argued that the university would be better served by keeping the name and actively reckoning with the meaning of the figure it was named after. 
"Ours is a nation that continues to refuse to face its own history of slavery and racism. Yale is part of this history, as exemplified by the decision to recognize an ardent defender of slavery by naming a college for him," he wrote. "Erasing Calhoun's name from a much-beloved residential college risks masking this past, downplaying the lasting effects of slavery and substituting a false and misleading narrative, albeit one that might allow us to feel complacent or, even, self-congratulatory. 
"Retaining the name forces us to learn anew and confront one of the most disturbing aspects of Yale's and our nation's past." he continued. "I believe this is our obligation as an educational institution."
Salovey announced the future launch of an "interactive history project" on Yale's past, which would begin with Calhoun's legacy. He also said that there would be a competition to select a work of art to be displayed on Calhoun College's grounds.
Salovey also announced that the two new residential colleges on campus are to be named after Anna Pauline Murray, a civil rights leader and alumna of Yale, and Founding Father Benjamin Franklin. 
Yale's selection of Franklin was a bit curious, given the raging debate over Calhoun's defense of slavery. Franklin is a celebrated figure in American life, but he was also once a slaveholder before joining the abolitionist movement, which tinges his name with at least some of the connotations that student activists last year sought to rid their campus of. 
If Yale wanted to use the name of the new colleges as an opportunity to reset and present undervalued perspectives on American diversity, Franklin wasn't exactly a perfect choice (and some students have already expressed some consternation about it).  
But the reason Yale chose Franklin might provide some insight into a quieter but deeply influential factor in how some of the decisions on proper and improper names are made. Consider the New York Times' report on a conference call Salovey held with reporters Wednesday evening:
Mr. Salovey explained that Franklin was a "personal hero and role model" of Charles B. Johnson, a businessman and Yale alumnus who donated $250 million to pay for the new buildings — the largest gift in the school's history — and who suggested the honor.
Yale's decision to use Calhoun College to talk more openly about the university's complex history rather than bury it seems judicious. But it's important to not forget about the politics of patronage. Like the choice to name the new residential college after Franklin, the decision to keep Calhoun may well have been influenced by considering the way money flows in from alumni keen on preserving their nostalgia. That's also something worth talking about.