Weatherwoman Getting Accosted by Windows 10 Update Pop-Ups Is All of Us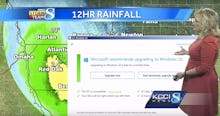 Ugh, those "helpful" update pop-ups always seem to come up at the worst times — like when you're on live TV.
Metinka Slater, meteorologist for local CBS affiliate KCCI out of Des Moines, Iowa, took it in stride when Microsoft decided to encourage a system upgrade during a recent weather broadcast.
"Microsoft recommends updating to Windows 10, what should I do?" Slater joked. "Don't you love when that pops up?"
No Metinka, actually we don't love it. Actually it makes us feel like this:
To Slater's additional credit, she neither drew a penis on the map or fell out of a bucket of grapes. So there's that. 
Watch the whole video below: