Ask This Student How Her College Is Protecting Her Rapist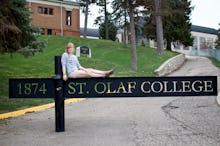 Her shirt reads, "Ask me how my college is protecting my rapist." And if you ask, Madeline will tell you: St. Olaf College — a small liberal arts school in Northfield, Minnesota — is protecting him not through active shielding, but through systemic passivity.
Madeline, a 22-year-old nursing major, is pressing the issue. She and 10 fellow students are wearing gray T-shirts intended to spark frank conversation about the college's sexual assault policies, which they say have failed to secure justice for victims.
"It's not us versus St. Olaf," Madeline said. "We're doing this because we love St. Olaf and we know it can be a better place, and we want it to be."
Madeline, who requested we use only her first name, said she was raped at the end of her junior year, in May 2015. She left a house party with a guy she didn't know and went back to his dorm. At the time, the 21-year-old was drunk — not blacked out, she said, but close.
"I told him I wasn't going to have sex with him and he said that was fine, but he was a lot bigger than me and a lot stronger than me," she said. Ultimately, he didn't listen.
St. Olaf's Sex Discrimination, Sexual Misconduct and Sexual Harassment Policy defines rape as "penetration, no matter how slight, of the vagina or anus with any body part or object ... without the consent of the victim." Consent includes "words or overt actions by a person clearly and affirmatively communicating a freely given present agreement to perform a particular sexual act" and can only be given when individuals are "not physically or mentally impaired or incapacitated, whether from alcohol, other drugs or other causes."
Sex with an incapacitated individual "is by definition sexual assault."
St. Olaf is one in a nation of schools struggling with assault. A 2015 report by the Association of American Universities indicated unwanted sexual contact involving physical force or incapacitation is a reality for 26% of female seniors. According to the National Sexual Violence Resource Center, some 90% of victims of sexual assault on campus do not report, and 63% of men who've admitted to behavior fitting the definition of rape are repeat offenders. Although about a third of college presidents recognize rape as a problem on campuses nationwide, only 6% believe it to be a problem on theirs.
It's a dismaying snapshot of our educational landscape, especially considering there's a legal framework in place to protect students from assault: Title IX, a 1972 law prohibiting sex-based discrimination in education, and 1990's Clery Act, which requires colleges make transparent their campus crime data. The Office for Civil Rights — a division of the U.S. Department of Education — oversees both, and in June was conducting investigations at 124 colleges and universities suspected to be in violation of Title IX, which requires schools to investigate official reports of sexual assault.
According to Madeline, St. Olaf seems loath to own the procedural flaws seeded in its system. The college's vice president and Title IX coordinator, Jo Beld, was unavailable to speak for this story, but shortly after Madeline's group launched its T-shirt protest, Beld clarified her position for the Minneapolis Star Tribune.
"We are legally obligated to provide a fair and equitable process," she said in early April. "I think the message [the group is] conveying is that the system is broken and needs to be fixed, and I don't believe the system is broken."
Madeline didn't report the incident until September. At the time of the alleged assault, she was finishing a taxing semester, recovering from surgery and heading into finals week. "I couldn't handle it at the time so I just really shut it down," she said. But she couldn't keep it buried all summer.
"Normally, when I start thinking about coming back to school, I get really excited because I love school, and this year at the end of the summer I was just kind of feeling a lot of anxiety and I was really stressed out about it," she said. "It wasn't until the very end of the summer that I really started processing."
When Madeline first realized the encounter qualified as rape, she didn't want to report it to St. Olaf. "You hear people's really awful experiences with reporting," she said. "There's this idea that things are not going to go well, and so I was really scared to do that."
She feared "that nothing would happen or that ... they wouldn't believe me." But once she started seeing her attacker around campus, she said, she couldn't think about anything else.
"I was focusing on it so much and obsessing over the details, and I couldn't focus on school, and I was upset all the time," she said. "I didn't feel like I was going to be able to move on unless I had some closure."
Madeline went to a dean's office and set the process in motion. Afterward, she felt relieved. "I just really trusted them, and I felt like this huge weight had been lifted off my shoulders."
When one St. Olaf student accuses another of sexual assault, the school hires an outside investigator to compile a report, which both parties read before composing written responses. These — along with the report and audio of testimony from the complainant, defendant and witnesses — go to a member of the college's Title IX team, who reviews and decides the case. (Madeline was not allowed to keep a copy of that report; all details about it presented here come from her memory and notes she took during the process.) 
Students involved in an assault investigation are allowed an adviser to "support" them throughout the process. "Advisers may confer with the person involved, but they may not actively participate in the process," school policy reads. Title IX requires both students be given equal access to outside counsel — part of the "fair and equitable" process Beld mentioned.
Madeline's alleged assailant had two lawyers, two private investigators and a forensic toxicologist working on his behalf; one of his lawyers acted as his adviser, accompanying him to his interview. Madeline didn't know this until October, when an ex-boyfriend, who didn't attend St. Olaf, told her he'd received a call from a private investigator, asking questions like "Is she trustworthy?" and "Would she get herself into a situation like this?" The investigator was asking on behalf of Madeline's alleged rapist.
Madeline immediately went to the deans. What she didn't know at the time, and what she said the administration neglected to mention, was that a student who hires private investigators to dig up dirt on another student meets the college's stalking definition — "unreasonably obtaining personal information ... by accessing public records, using internet search services, hiring private investigators ... contacting complainant's friends, family, work or neighbors, etc." — and is guilty of sexual misconduct.
The investigators called a number of people Madeline knew, including her boss from home. They asked him whether or not Madeline dressed provocatively at work, whether she was sexually aggressive with customers. Every time she learned about a new call, she reported it to the deans. But the school's own policy obligated the administration to act on her first tip.
It didn't quite do this. According to the formal complaint Madeline filed with the Office for Civil Rights in April, the administration warned the accused student to "make certain that actions taken on [his] behalf do not harass, intimidate or in any other way retaliate against ... the complainant" in October, rather than expressly telling him to stop. The calls continued while the student put off his interview for weeks, Madeline said.
When he finally appeared, he presented information found on Madeline's Facebook and by his investigators, plus character references. Madeline expressed concerns about this information finding its way into the investigation report, but was told it wouldn't be a factor. And indeed, as far as Madeline knows, only one photo from the hefty binder of unrelated findings the student presented in his interview made it into the initial report.
That was a step in the right direction, according to Colby Bruno, senior legal counsel at Victim Rights Law Center. But what St. Olaf needed to do was to see it through, instead of allowing the accused student to include the opinions of outside counsel in his written response. "St. Olaf's biggest hurdle," Bruno said, was to make sure that any irrelevant information the student provided didn't make its way into the report that landed on the adjudicator's desk.
Private investigators called people Madeline knew, including her boss from home. They asked him whether or not she dressed provocatively, whether she was sexually aggressive with customers.
When Madeline read that initial report, "It looked really good for me," she said. All the witnesses present on the night in question testified that she'd been drunk, and the student had admitted that she'd said no. She felt confident until the next week, when she read his response and saw the not-quite-evidence that had been cut from his initial testimony.
"He accused me of making all this up because he didn't call me, and he included his medical records, and he included an expert witness testimony from a forensic toxicologist who talked about how I was creating false memories and you can give consent when you're blacked out, you just won't remember it," she said.
Madeline lacked the resources to secure comparable counsel. She said the school hadn't informed her of "the number and extent of the professionals he hired." Since she didn't know how many people were working on the other student's behalf, she didn't have the chance to present a comparable account.
The forensic toxicologist's assessment, delivered through her alleged assailant's written response, seems to have determined the verdict. "I was an unreliable witness because of my memory loss, which was due to my state of intoxication," she summarized the adjudicator's decision. The college found the accused student not responsible, despite the fact that the college's policy says a student who's been drinking cannot give consent, and despite the fact that student admitted in his recorded testimony that Madeline said no to having sex with him. Following the college's own guidelines, that's rape.
"There's a very clear line between relevant [and] irrelevant in these cases," Bruno said. By allowing irrelevant information to seep into the final report, she said, a school creates "a natural bias against the victim. When you do these cases, it's all about equity." People like the accused student's forensic toxicologist, who never spoke to Madeline, should not have been allowed to present statements, even indirectly, to the adjudicator. And because Title IX requires every college rely on a preponderance of evidence standard, the case should've been decided "based on the more convincing evidence and its probable truth or accuracy, and not on the amount of evidence."
By mid-December, when the school issued its Notice of Determination in the case, it had exceeded — by nearly three weeks — the 60-day timeline for deciding sexual misconduct complaints. Citing procedural error, Madeline appealed. She was denied nine days later, on Dec. 22.
She also requested a new investigation into the accused student's stalking, which the college filed, but under the wrong category: "general student misconduct," which is handled with a different procedure than sexual misconduct. It wasn't correctly labeled until March, nearly three months after the initial adjudication.
Adrian Benjamin knows firsthand how St. Olaf's sexual assault policy can fail a student. Also a senior, Benjamin was assaulted in January 2014. He reported to the deans and provided evidence. After nearly two silent weeks, Benjamin learned of the decision when he was copied on an email to the accused person, informing that student he wouldn't be held "responsible for the allegation." The language, Benjamin felt, intimated that someone was being held responsible — if it wasn't the direct recipient, it must have been the person copied.
"It was quite a slap in the face," he said. "I was so angry and upset, I didn't want to speak with [the administrators involved] again." Benjamin's grades fell, leading to academic probation and, eventually, dismissal. He contested that punishment, arguing that his decline made sense given the trauma he'd experienced. The school, it seems, agreed.
"What [the administration] said was, 'Oh, it makes sense why your grades dropped,'" he recalled. "It was so strange that they almost affirmed the sexual assault when I had to rebut the dismissal, but during the process of [reporting] the sexual assault, they wouldn't affirm it."
When Madeline's WordPress site, My College Is Protecting Rapists, went up, St. Olaf alumni confirmed the college's history of failing victims, even as it acknowledges them. The comments they left and the testimony they shared suggest this pattern stretches back some 50 years.
Madeline first had the idea for the "Ask me how my college is protecting my rapist" shirts in December, around the time lawyers at Gender Justice, a nonprofit law firm and advocacy group, agreed to take on her case. "Things just kept going downhill with the college," she said. She found the other 10 students who now make up the so-called "Gray Shirt Group" by word of mouth. A friend put Benjamin in touch with Madeline, who "asked if I would be willing to bring this to light and to change it so students — future students and current students — wouldn't ever have to face what we did."
The students first donned their T-shirts on March 30 and now wear them about twice a week. While the shirts initially shocked people, the movement has attracted widespread encouragement from the St. Olaf community.
"It's so strange," Benjamin said, "the support we've received from alumni ... students here, faculty and staff ... literally custodians coming up to me ... saying they really support what we do and that they hope we can affect some positive change here, but it's almost as if our admin isn't part of that community, that they're not even part of our school."
Publicity appears to have spurred the administration to action, however. On April 15, St. Olaf president David Anderson announced the creation of a working group to conduct a "comprehensive review of the college's Title IX policies."
The Title IX working group — composed of 10 faculty members, students, alumni and outside experts — will meet weekly to do what Michael Kyle, the college's vice president for enrollment and college relations, called a "top-to-bottom review" of the school's Title IX enforcement policy, compiling its findings in a report for Anderson by mid-July.
According to Madeline, no one on the committee has been through the Title IX process at St. Olaf. Madeline has been invited to address the committee members, and she'll go, although she's skeptical it will make a difference. "The idea of the working group is to present suggestions," she said, which she and other students have already presented in bulk. "What they find isn't necessarily going to be paid attention to."
But the group has a job to do, and, according to Kyle, "presupposing [an] outcome to this would be very premature." No one can know what Anderson will do with the group's recommendations, but Kyle wanted to make one thing clear:
"Every single day, those of us who work at the college think about the safety and well-being of our students. We want to make sure that we are not just in full compliance with federal and state regulations ... but that our students are cared for, they're advocated for; that they're heard from." 
The administration, he continued, is "always open to continuous improvement. ... If there are ways that we can do better, we're going to do that."
The Gray Shirt Group thinks the college can start by replacing the vague "overt actions" clause in its consent policy with a verbal affirmation requirement. Among the group's demands are support for victims, transparency, better training for Title IX team members and administration adherence to a clearly defined sexual assault policy. They're also getting help from the Office for Civil Rights, which will be investigating St. Olaf for its alleged violations of Title IX.
"It's not about good guy versus bad guy," Benjamin said. "We're doing this so that other students don't have to go through this horrible process."
"If there's one thing that I could ask [the administration to] do, that would be to treat us as human beings," he added. "I shouldn't have to ask that. My administration shouldn't look at me like a dollar sign."