The 2 Numbers That Put the Escalating Syrian Civil War Into Perspective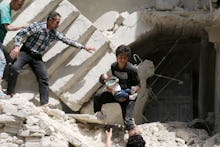 "In the last 48 hours, we have had an average of one Syrian killed every 25 minutes, one Syrian wounded every 13 minutes," Staffan de Mistura, the United Nations special envoy to Syria, said, Al Jazeera reported. 
Mistura's comments come after the al-Quds hospital, supported by Medecins Sans Frontieres and based in a rebel-held area of Aleppo, was hit by one of two airstrikes Wednesday night, killing at least 17 doctors and patients, according to the BBC. Among the dead was one of the last remaining pediatricians in Aleppo. Over 60 people died in total, the Washington Post reported.
(Editor's Note: This post contains graphic images. View with discretion.)
Read more: EU's Refugee Deal Could Be Devastating, Amnesty International and UN Say
On average, one Syrian is killed every 25 minutes. One Syrian is wounded every 13 minutes.
The Syrian government, backed by Russia, has ramped up its offensive against rebels over the past week, leaving many concerned that the tenuous and fragile ceasefire is coming to an end.
On Monday, President Barack Obama announced "up to 250 Special Forces soldiers" would be deployed as ground troops in Syria to fight the Islamic State group, also known as ISIS, Reuters reported. Despite international efforts to quell the violence and instill stability, civilians continue to pay the highest price, bearing the brunt of casualties in the civil war, which sees no end in sight. 
Aleppo holds strategic significance in the power struggle between President Bashar al-Assad's government and the various rebellious factions (which includes ISIS) fighting for control over the country. Aleppo is now on the verge of becoming a humanitarian disaster. 
With a population of more than 2 million, the number of medical facilities available — in a city gripped by daily violence — is vastly inadequate, Red Cross spokesman Pawel Krzysiek told Al Jazeera.
"There is no neighborhood [in Aleppo] that has not been touched by the recent fighting," Krzysiek told Al Jazeera. "This should not happen."