Emma Watson Just Tore Apart Everyone Who Thinks There Is No Gender Gap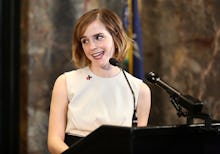 Emma Watson has strong words for anyone who believes gender inequality isn't a real issue anymore — and it basically boils down to, you're really, really wrong. In a recent feature for Interview magazine, Watson said gender inequality is right under our noses — many people just don't see it. 
"If you've been sold the line that gender equality is something that is solved, and that we now live in an equal world and this has all been tackled, you're not looking for it in the same way," Watson told actress Geena Davis in the interview. 
"I would say there have been different stages of my feminist awakening. The more layers you peel back and the more things you're made aware of, you're like, 'Oh my God.'" 
Davis is the founder of the Geena Davis Institute on Gender in Media, which she created to address the gender imbalance in Hollywood and to "reduce stereotyping and create diverse female characters in entertainment" for children.
According to the institute, "from 2006 to 2009, not one female character was depicted in G-rated family films in the field of medical science, as a business leader, in law, or politics," and currently, male characters outnumber female ones 3 to 1 in "family films."
Watson also addressed the importance of calling attention to data that outline the gender inequality in media, telling Davis "I think that why the research and the data are so important is because you become so used to seeing the world one way that you don't even notice anymore. It has this invisibility."
Watson has been vocal about her personal feminism in the past, and also serves as a U.N. Women Goodwill Ambassador in addition to her acting career, and, in her conversation with Davis, she credited other women with empowering her to be outspoken about her views.
"I've had so many moments where seeing other women be fully and truly and authentically themselves, and express that, has given me permission," Watson said.
Read more: Emma Watson Just Took a Small Stand for Female Sexuality