Brooklyn Decker Missed Her Plane to Pump Breast Milk — And She's Mad as Hell About It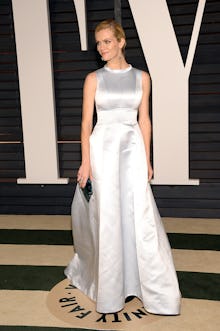 All that model Brooklyn Decker wanted to do last night was pump a little breast milk while she waited for her plane to take off. But the swimsuit model-slash-new-mom was in for a rude awakening.
At first, the crew obliged. They even let her deplane so she could pump in the comfort of a nonairplane restroom. (That's probably because pumping in a plane bathroom sounds highly uncomfortable and also has caused issues for breastfeeding moms in the past.)
But alas, she returned 15 minutes later to find that the plane had taken off in her absence, leaving both her and her breast pump behind. Rude.
A not-happy Decker turned to Twitter to give her followers the play-by-play: 
FWIW: Bathrooms are gross. Also: Don't get off the plane!
It's too late now to say sorry.
Honestly, that wine looks good.
By the end of Decker's mom-rage tweetstorm, our heroine finally asked herself: Why the fuck do I care so much about keeping my breast-pumping private anyway?
Wine musings? More like "totally valid point regardless of blood alcohol level" musings! 
Finding a clean place to pump is a notorious struggle for breastfeeding moms, as we learned at the Oscars in February from Tom Hardy's wife, who made her husband wait in the lobby while she pumped in the bathroom. 
Perhaps in 2017 Oscar moms will feel emboldened to just do it in their seats at the Dolby Theater. And maybe Brooklyn Decker will feel similarly emboldened to do it in her seat on her next flight. When you gotta pump, you gotta pump.
h/t the Cut