John Boehner Says He Thinks Ted Cruz is "Lucifer in the Flesh"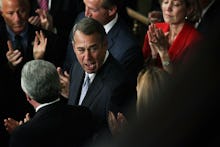 John Boehner thinks Ted Cruz stinks 666 ways to Sunday.
"Lucifer in the flesh," the former House speaker said of the Texan presidential hopeful during a talk at Stanford University.
Read more: John Boehner to GOP: "The Bible Says Beware of False Prophets"
"I have Democrat friends and Republican friends. I get along with almost everyone, but I have never worked with a more miserable son of a bitch in my life," Boehner said, per the Stanford Daily.
Boehner announced he would hang it up and retire last September under heavy fire from the conservative wing of the GOP. He was succeeded by Rep. Paul Ryan of Wisconsin, whom he supported as Mitt Romney's veep pick in 2012.
Compared to Cruz — once also labeled a "jackass" by the House leader — Donald Trump got better Boehner treatment during his California session: The two have golfed together for years and are "texting buddies," the ex-speaker reported.
The famously emotive Boehner shed no tears over the third man left standing in the GOP race for the presidency, John Kasich, governor of Boehner's home state of Ohio.
"[Kasich] requires more effort on my behalf than all my other friends ... but he's still my friend, and I love him," the Daily quoted him as saying.
The university paper further reported:
Boehner for the most part accepted Trump as the presumptive Republican nominee, though he did express his surprise at the candidate's success. While he did not praise Trump's policies, the Speaker did say he would vote for Trump in the general election if he becomes the Republican nominee. The former Speaker said he would not, however, vote for Cruz.
The famously friendless Cruz tried to fire up his campaign Wednesday by naming also-ran Carly Fiorina as his pick for vice president. That's something a GOP hopeful hasn't done before securing the nomination since Ronald Reagan tapped Richard Schweiker as a running mate ahead of the 1976 Republican National Convention.
On the Democratic side, Boehner said he believes the Democrats will nominate Hillary Clinton over Bernie Sanders.
He also said he thinks the scandal over the former Secretary of State's private email server could continue to dog her — necessitating a high-level assist.
"Don't be shocked ... if two weeks before the convention, here comes Joe Biden parachuting in and Barack Obama fanning the flames to make it all happen," Boehner said.